The Lost Valley Trail near Ponca is undoubtedly the most popular of all the Buffalo National River trails.  People of all ages, especially families with youngsters, never seem to tire of Lost Valley's lush, creekside setting, beautiful waterfalls, unique geology and interesting caves.  Once you've experienced it for yourself, you'll easily see why the trail is Arkansas' most beloved hiking adventure.
Earlier this summer a heavy rainstorm poured a huge volume of water into the box canyon the trail meanders through, moving tons of rock and gravel within the creekbed, as well as gouging out large sections of the trail itself.  Sadly, just a few years earlier a storm downburst had caused similar damage, forcing the National Park Service (NPS) to temporarily close the Lost Valley area until the trail could be restored.  In addition, the massive flash flood convinced the NPS to permanently close the area to camping in the interest of visitor safety.
At present, the NPS is in re-assessment mode, searching for ways to permanently repair the trail damage so that it is able to withstand future heavy rainfall events. Included in the assessment is an evaluation as to what improvements could be made to the services provided at the trailhead.  We strongly applaud this more global evaluation as the Lost Valley trail is extremely popular and we feel that every aspect of its usage—from parking to picnic sites to trash removal to restrooms—needs to be considered.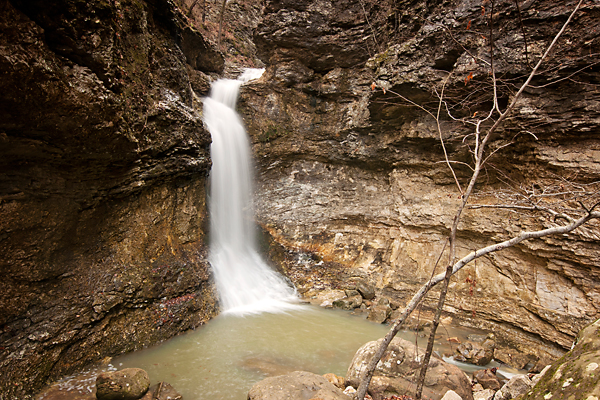 The trail is slated to reopen in late September according to a recent NPS letter sent to upper Buffalo National River outfitters (such as BOC).  As the NPS puts together a plan of recovery, they will be asking for public feedback regarding improvements.  Be sure to watch our blog and Facebook page for information regarding this effort.  When the time comes, we encourage you to share your ideas with the NPS as your voice can make a difference, especially when heard in concert with others expressing similar concerns.

Sign Up for our newsletter
Get the latest updates from the Buffalo!