Stay and play in Arkansas' prettiest place!
First time to the upper Buffalo National River? Need help putting a springtime trip together? Jump start your trip planning with Buffalo Outdoor Center's quick guide to all things floating, hiking, camping and zip line for the upper Buffalo National River! Get info on beautiful cabin and lodge rentals and RV park sites, too.
CANOE, KAYAK, & RAFT TRIPS
PADDLING SEASON: Typically, March - June on the upper Buffalo National River (Ponca, AR area), although we sometimes enjoy late-season rainfall that keeps us floating into July. Keep up with current river conditions here: BUFFALO NATIONAL RIVER WATER LEVELS
WHAT TO EXPECT: For a day trip, you won't find finer float trip scenery in Arkansas than what lies between the Ponca and Kyle's Landing river accesses. Towering bluffs and waterfalls, pristine water, opportunities for wildlife watching---this 10-mile stretch is the premier section on the Buffalo National River and its most sought-after float trip. However, the entire river is the crown jewel of Arkansas's scenery, so if you have the luxury of planning a multi-day trip, you'll be well rewarded for the extra time taken. Love to float and fish? Click here for more info on Buffalo River fishing, including where to get an out-of-state license.
RESERVATIONS: Advance canoe, kayak or raft rentals are strongly advised, especially for weekends. However, even weekdays can be popular, so it's a good feeling to know that your boat is reserved and awaiting your arrival. You can book your boat(s) online or by calling us at 870-861-5514.
QUICK LINKS:
HIKING & WATERFALL TRAILS
SPRING SEASON: Spring rainfall turns on countless waterfalls in the Ponca Wilderness of the Buffalo National River, including some of The Natural State's most beautiful, such as the majestic Hemmed-In Hollow waterfall. In April and May, you'll find waterfall areas in bloom with native wildflowers, so your spring hiking adventures are made all the more beautiful by their presence. From Ponca, you're near two of the most popular hiking destinations in Arkansas---the Lost Valley and Whitaker Point trails. Need a trail map? Visit our TOP BUFFALO RIVER TRAILS page to explore hiking options and get a free PDF map download of the most popular upper Buffalo River trails!
WHAT TO EXPECT: Trails are busy on weekends, but the scenery remains grand and the hiking worth doing, even when lots of folks are out and about. To have trails more to yourself, hike midweek. Have a pet you love to hike with? While pets are not permitted on trails within the national park system, they are most welcome on trails within the adjacent national forest: PET-FRIENDLY HIKING TRAILS
QUICK LINKS: TOP BUFFALO RIVER TRAILS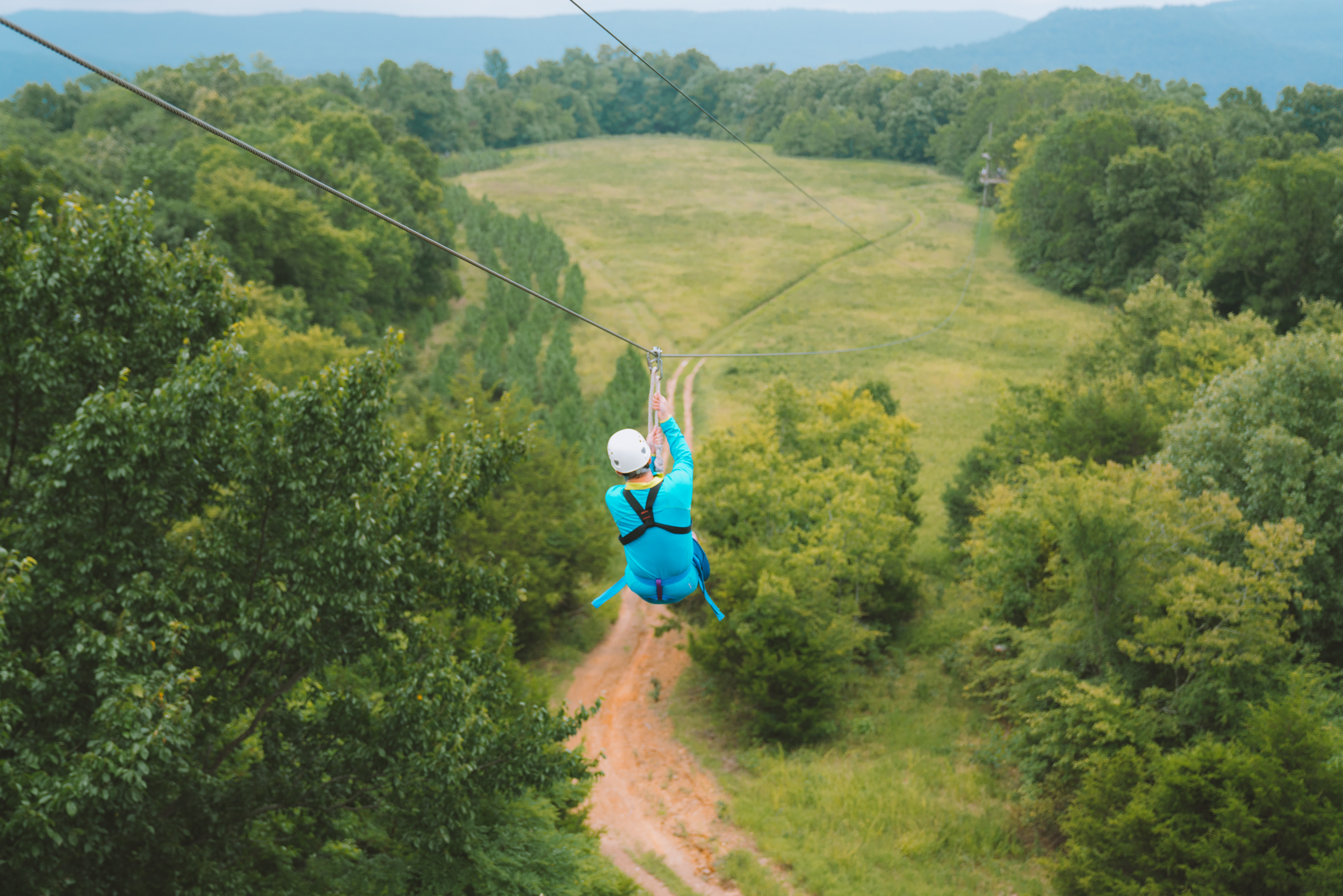 ZIP LINE TOURS
Experience the only wilderness zip line tour in Arkansas! Far more than a zip line run, our Buffalo River Canopy Tour is 2.5 hours of high-flying fun in through the treetops of the Ponca Wilderness. Thrilling fun for ages 7 and older, with some health and weight restrictions applying. Open March 1 - Nov 24, 2019. Learn more about our zip line adventure here.
WHAT TO EXPECT: Vivid greens of spring in the treetops, deer with their fawns, even the occasional black bear or elk can be seen as you zip along. Some of our most avid zip line guests are age 65+, so be sure to invite Grandma and Grandpa!
RESERVATIONS: Advance reservations are always recommended, especially for weekends. Book online or call us at 870-861-5514.
QUICK LINKS: BUFFALO RIVER CANOPY TOUR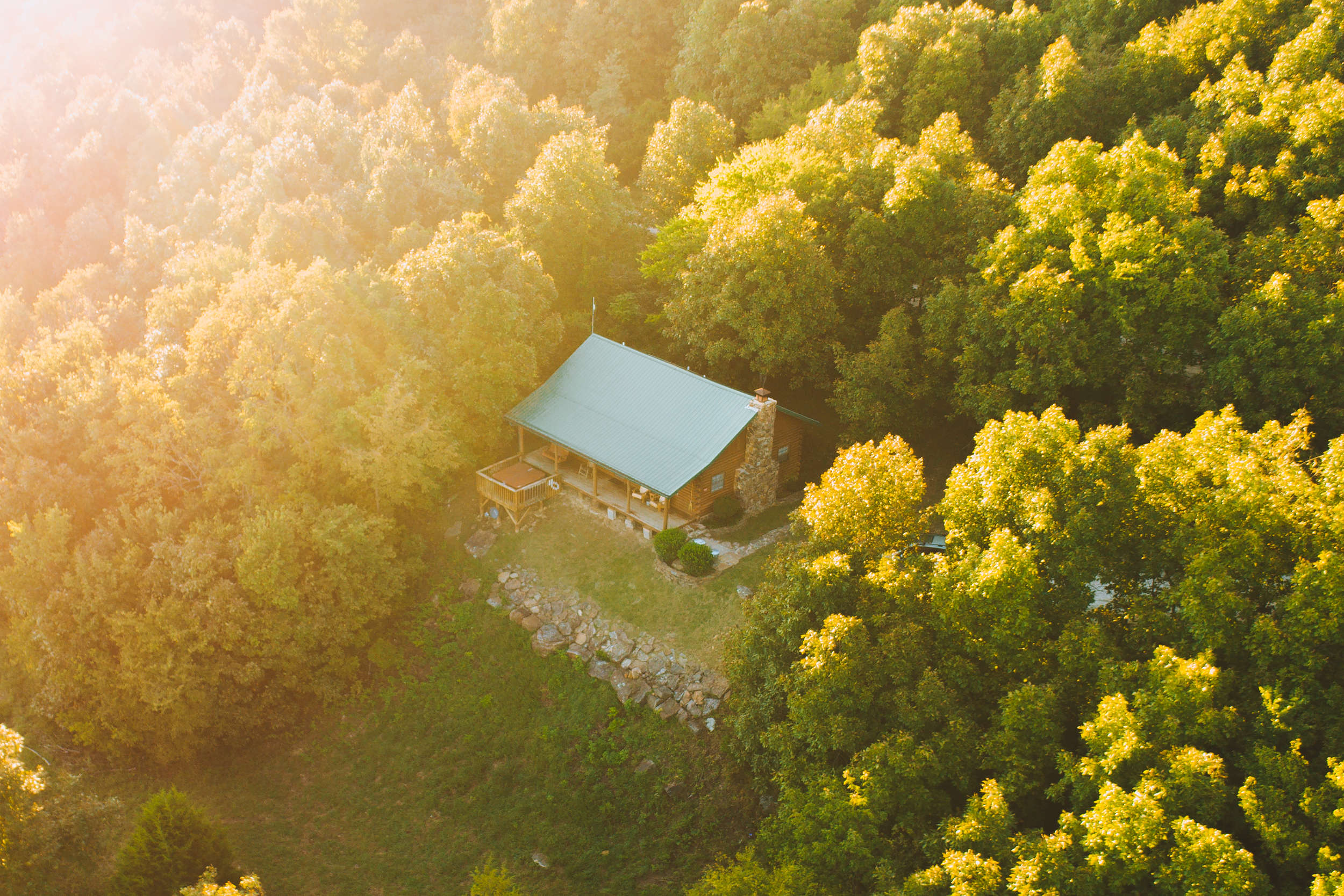 CABIN RENTALS
We offer beautiful rental cabins that fit most any budget. Our mountain-top cabins are guest favorites for their big wilderness views, hot tub decks, fireplaces, romantic amenities, and secluded locations. In Ponca, you'll find cabins that offer a quality stay at budget-friendly rates. And whatever BOC cabin you choose, you can count on it to be clean, clean, clean with the furnishings comfortable and quality. You'll also enjoy the most flexible cancellation policies around when staying with us. Scroll on for links to the various cabin categories, including wifi cabins and pet-friendly lodging!
WHAT TO EXPECT: In March, weather can range from warm and wonderful to chilly, so pack clothing that lets you dress in layers. In April and May, daytime temps tend to hover in the 70's-80's with the nights still on the cool side, making for ideal cabin porch swing weather!
RESERVATIONS: For spring weekends and Memorial Day weekend, you'll want to reserve a cabin as soon as you know your trip dates. Last-minute cabins can be hard to come by, although the occasional cancellation does occur. In June, even weekday cabins are in high demand, so be sure to book ahead for this popular month. Book online or call us at 870-861-5514.
QUICK LINKS:
HOT TUB CABINS
ROMANTIC CABINS FOR TWO
WIFI CABINS
CABINS ON THE MOUNTAIN
FAMILY & FRIENDS CABINS
PET-FRIENDLY CABINS
MOTORCYCLE-FRIENDLY CABINS
SATELLITE TV CABINS
ALL RENTAL CABINS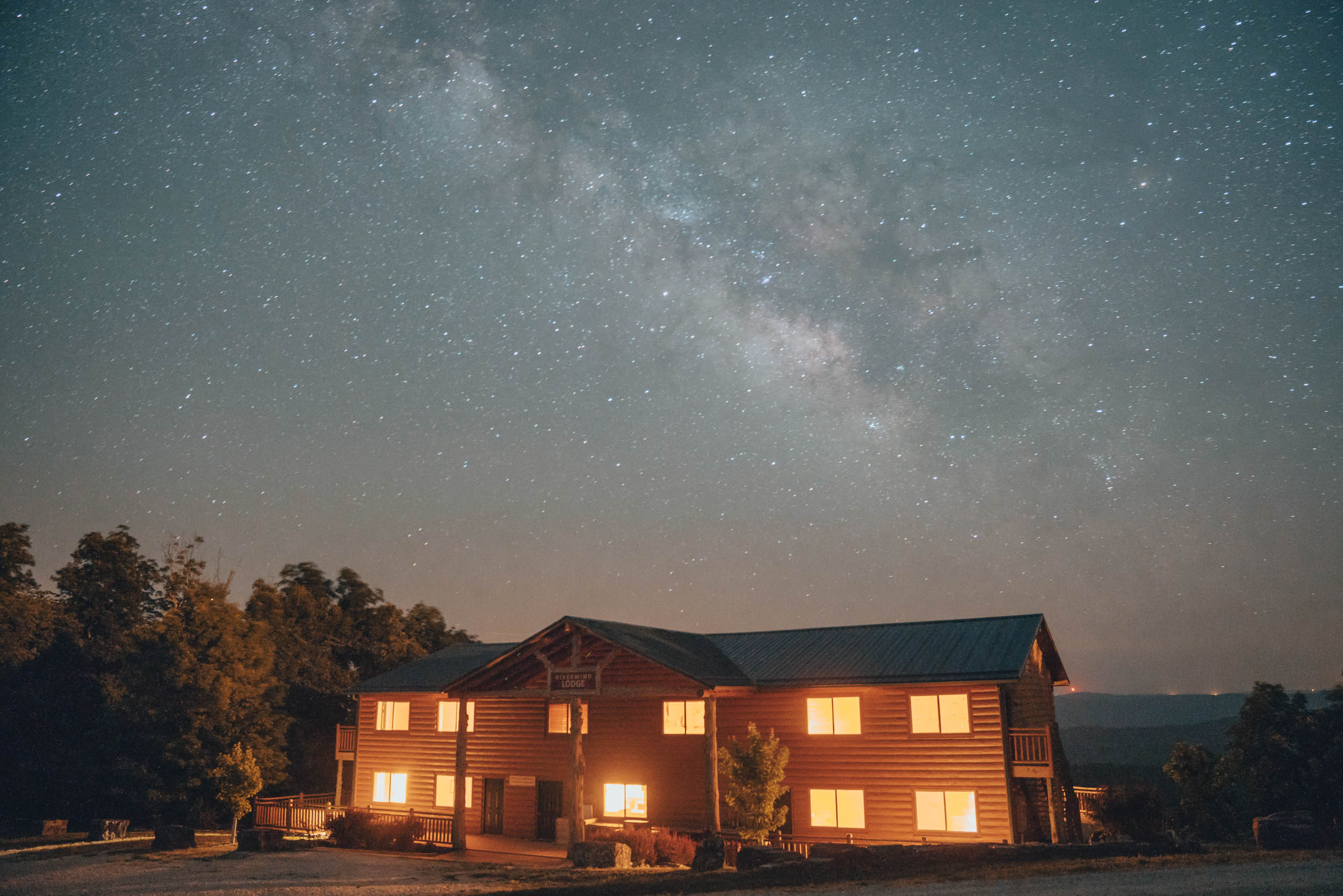 GROUP LODGE RENTALS
Need a beautiful place for an event, such as a family reunion, wedding or corporate retreat? Or, just a gathering of great friends? Our RiverWind Lodge, with its stunning 30-mile view across the upper Buffalo National River wilderness, is an extraordinary setting for whatever event you're planning. Learn more about the fabulous amenties of our premier Arkansas lodge with a rate that keeps group events budget friendly, not budget breaking!
WHAT TO EXPECT: RiverWind Lodge hosts up to 36 guests with 10 spacious bedrooms, each with its own private showerbath. For a reception, the lodge can hosts up to 100 guests and 50 for an indoor sit-down dinner and even more if outdoor deck seating is utilized. Need help putting together the details of a wedding or corporate event? Let our group coordinator assist you with set-up requests, extra tables/chairs, AV equipment specs, information on caterers, florists and more. Just call 870-861-5514 and ask for Alyssa.
RESERVATIONS: RiverWind Lodge is a very popular event venue during the spring floating and wedding seasons. Plan ahead as much as possible to secure the dates you prefer. Book online or call us at 870-861-5514.
QUICK LINKS:
RIVERWIND LODGE
WEDDINGS
FAMILY REUNIONS
CORPORATE RETREATS
FRIEND GETAWAYS
COMING IN FEB 2019:
The addition of a beautiful new group lodge in Ponca! Watch the BOC e-newsletter for an announcement...sign up here!

RV PARK
Got an RV? We have RV campground sites! And not just any sites---the kind that discriminating RVers prefer. We're RVers, too, so we understand that you want spacious camp sites, clean and up-to-date bathhouse facilities and a beautiful view! Click here for more info about BOC's RV camping, convenient to Ponca and the Buffalo National River.
WHAT TO EXPECT: We offer 14 RV campsites, all with level concrete pads, outdoor grills and full hookups, including 30/50/100 amp electric. Most pads are 60 feet long, with additional gravel drive space for your tow vehicle. Ask about our buddy sites! With the campground's Ozark Mountain-top location, you'll enjoy beautiful sunrises and sunsets, plus, fresh mountain breezes.
RESERVATIONS: On spring weekends and Memorial Day weekend, you'll want to reserve as soon as you know your trip dates. Book online or call us at 870-861-5514.
QUICK LINKS: RV Camping Near Ponca

LOOKING FOR ELK?
Once warmer spring weather arrives, the Ponca elk herd tends to stay tucked away in the cool shade of the tree line along the Buffalo National River. Besides, tender spring tree leaves are an elk's favorite snack! Even so, you'll always run the chance of seeing elk grazing in fields near Ponca in the spring. Late May and June are particularly good times to see elk moms with their newborn calves.
---
Buffalo Outdoor Center is authorized within Buffalo National River to provide canoe, kayak, and raft rentals and transportation services.