The BOC Store & Deli
Open Daily:
Mar-Oct: 8 AM - 6 PM
Nov-Feb:  8 AM - 5 PM
Bite into a hearty taste-bud pleasin' BOC Deli sandwich creation featuring quality all-natural meats and super fresh veggies, surrounded by wholesome bread from Neighbor's Mill, a local bakery. Need some for a float trip or hike? Give us a call at 870-861-5514 at least 24 hours in advance to pre-order and we'll have 'em ready for pick up by 9:00 AM!
We also offer fresh-baked pizza, perfect for taking to the river for a special picnic treat or enjoying on the porch of your cabin. Seasonal BBQ pulled pork sandwiches and Ham, Beans & Cornbread. Yummy!
BOC Deli Menu
All Sandwich Meals Served with CHIPS and PICKLE. Change any Sandwich Meal to a fresh crisp SALAD! To place orders please call 870-861-5514.
BOC BREAKFAST BURRITO – $9.99
Served 8 AM TO 11 AM  / Large flour tortilla wrapped around shredded Cheddar cheese, shredded hash browns, eggs, sausage, bacon
CRANBERRY CHICKEN SALAD sandwich or salad
Honey Wheat Bread, Cranberry Chicken Salad (diced chicken, mayo, celery, craisins, cinnamon, sugar, celery salt, salt) and Lettuce (no nuts) – $11.99
THE BEST OF THE BUFFALO RIVER sandwich or salad
Neighbors Best Bread (multi-grain), Cajun Peppered Turkey, Sliced Bacon, Swiss Cheese, Lettuce, Tomato, Avocado, & Mayo – $13.99
BOAT APE sandwich or salad
Neighbors Best Bread (multi-grain), Turkey, Ham, Roast Beef, Pepperoni, Pepper Jack Cheese, Banana Peppers, Spinach, Pickles & Spicy Brown Mustard – $11.99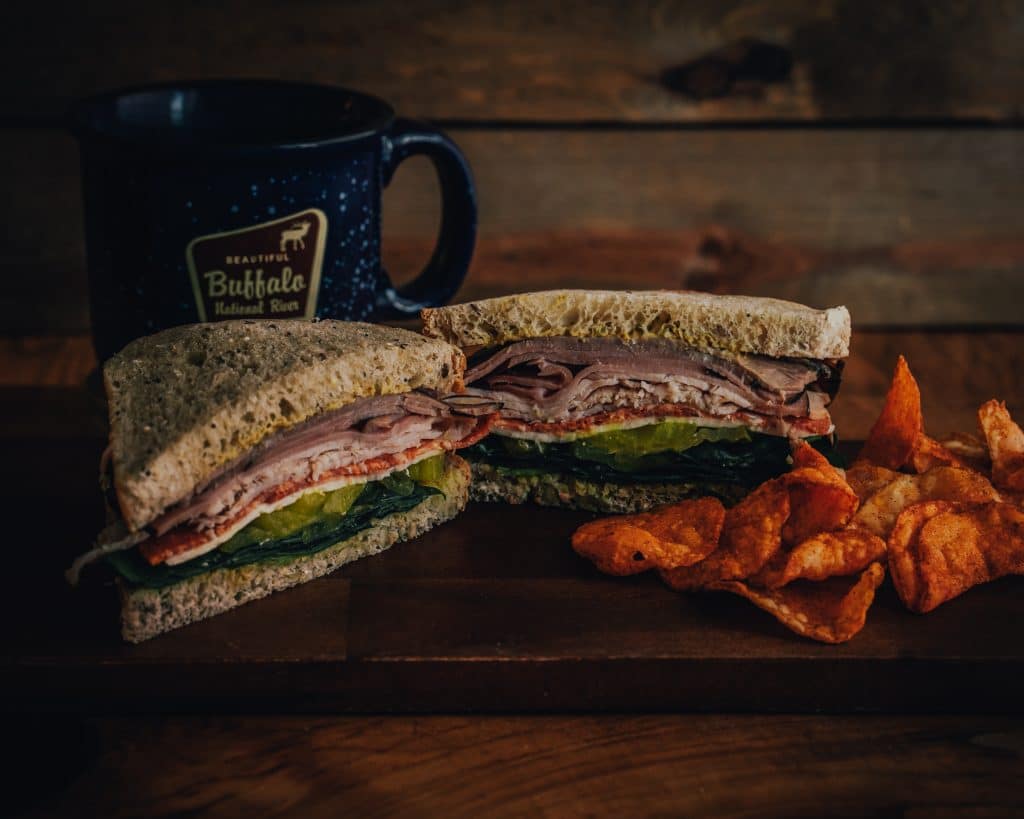 PONCA PADDLER sandwich or salad
Tomato Herb & Cheese Bread, Roast Beef, Cheddar Cheese, Lettuce, Tomato, Banana Peppers, Creamy Horseradish & Spicy Brown Mustard – $12.29
CANOE OPERATOR sandwich or salad
Honey Wheat Bread, Turkey & Ham, Spinach, Tomato, Pepper Jack Cheese, Colby Jack Cheese, Banana Peppers & Spicy Brown Mustard $11.99
THE 'NEWTON COUNTY' SPECIAL sandwich
Honey Wheat Bread, Turkey OR Ham & Colby Jack Cheese, Mustard or Mayo – $11.29
HEMMED-IN-HOLLOW sandwich or salad
Honey Wheat Bread, Ham, Colby Jack Cheese, Tomatoes, Lettuce, Cucumber & Mayo – $11.29
TOURIST sandwich or salad
Honey Wheat Bread, Turkey, Swiss Cheese, Tomato, Avocado, Spinach, Cucumber & Mayo  – $13.49
THE BUFFALO RIVER SASQUATCH BLT sandwich or salad
Honey Wheat Bread, Sliced Bacon, Colby Cheese, Lettuce, Tomato, & Mayo – $11.99
LOST VEGGIE sandwich or salad
Tomato Herb & Cheese Bread, Lettuce, Spinach, Tomato, Pickle, Banana Pepper, Cucumber, Avocado, Colby Jack Cheese & Italian Dressing – $9.99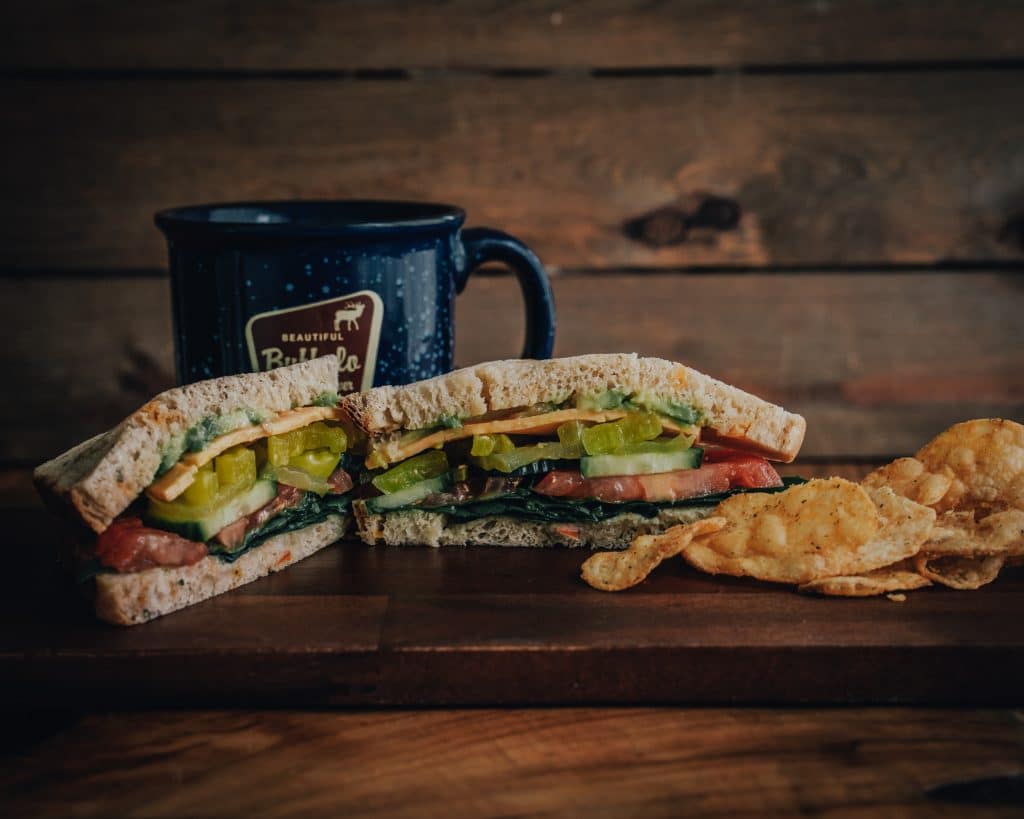 PEPPERONI PIZZA GRILLED CHEESE Sandwich
Tastes just like a slice of pizza!  Tomato Herb & Cheese Bread, Pepperoni slices, Colby Jack Cheese, Pepper Jack Cheese & Marinara Dipping Sauce – $10.99
KIDS MENU Sandwiches
Peanut Butter & Jelly OR Grilled Cheese – $6.99
Hot & Fresh 12-Inch Pizzas
Cheese  – $13.49           Pepperoni  – $14.49
PLEASE ALLOW 15 MINUTES FOR EACH PIZZA TO COOK