Why Choose a BOC Cabin
Whether it's your first trip to the Buffalo National River or your fiftieth, where you stay can make a big difference in your vacation experience. Let us introduce you to some of the key reasons why lovers of America's first national river are also avid fans of Buffalo Outdoor Center cabins and lodges!
Confidence in Where You Stay
When you choose a BOC cabin, you're booking a first-rate experience—no second-hand furniture, no thin towels, no lumpy mattresses, no wondering when the bed comforter was last washed.  Cleanliness and comfort matter greatly to us as we know they are of the utmost importance to you, our guest.  We also furnish a cabin the way we would want to experience one, with quality furnishings that provide relaxation and comfort, soothing ambience and convenience.  And, if something's not right, you never have to worry if someone will care or respond.  Our staff is ready to make it right, whether the issue is discovered upon arrival or occurs during your stay.
We stayed at the Creekside Cabin and everything could not have been more perfect.
Stellar Views & Starry Skies
Our mountain-top cabins offer what is arguably the finest view in Arkansas, placing 30-miles of upper Buffalo River wilderness at your feet.  Nothing goes with a morning cuppa Joe like a shroud of mist lacing through the Boxley Valley below your cabin's lofty mountain perch.  Or how about a billion stars to stare in wonder at from your cabin's front porch or hot tub deck?  At 2200 feet of elevation, our mountain-top cabins do not disappoint when it comes to location, seclusion, sunrises and sunsets, and endless starry Arkansas night skies.  In fact, we're Arkansas's first Dark Sky Resort as designated by the Arkansas Natural Sky Association.
The view from the porch overlooking the Buffalo River Valley is absolutely perfect. It's one of the few spots in the area that's high enough to take a photograph of the sunrise over the fog-filled valley. Stunning!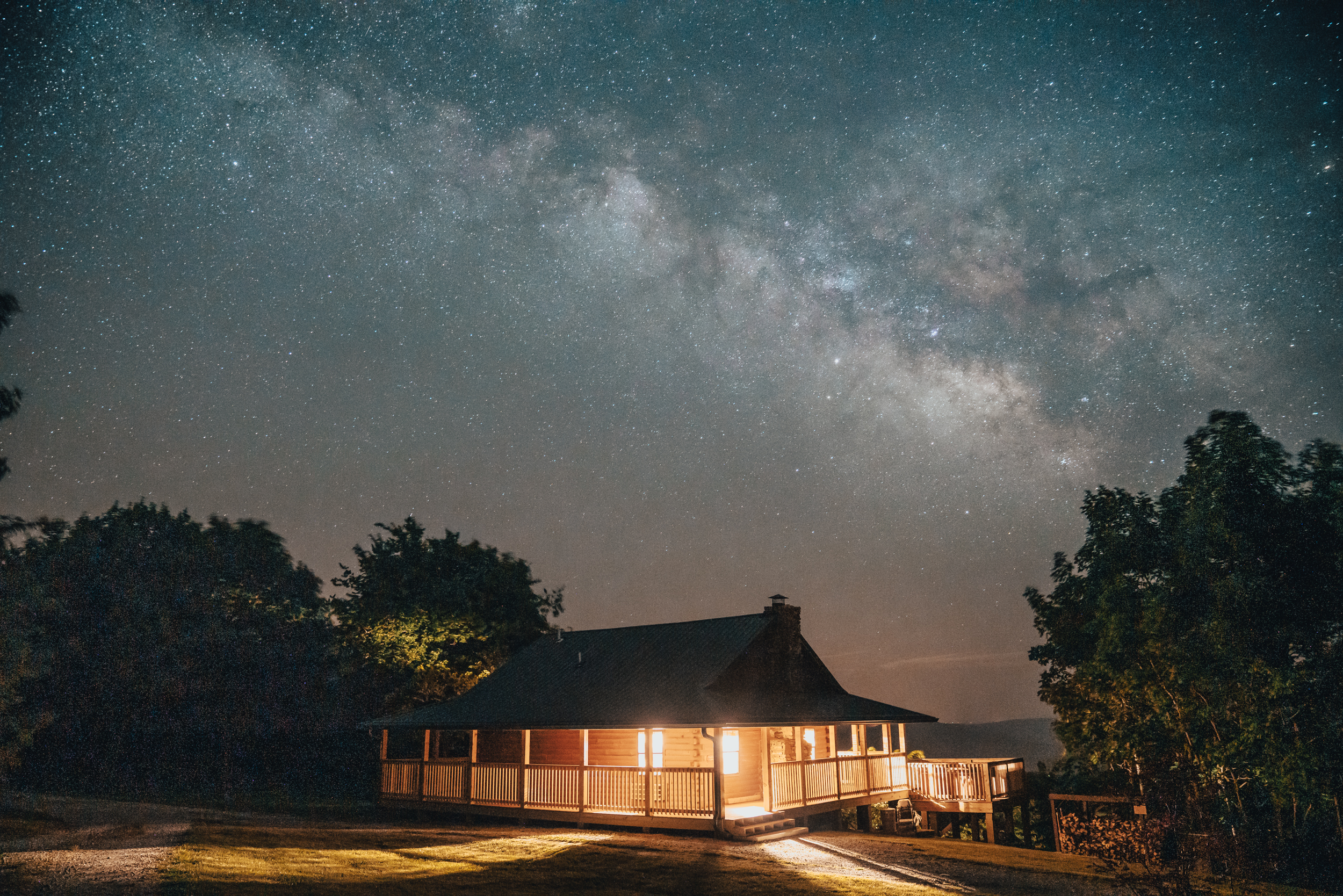 Flexible Cancellation Options
Buffalo Outdoor Center has some of the most flexible lodging cancellation policies in the travel industry.  For example, EVERY BOC reservation comes with our "PEACE OF MIND" cancellation assurance, which enables you to cancel up to 48 hours in advance of arrival with the only charge being the nominal deposit you have already paid.  Need the flexibility of cancelling the same day?  Consider adding our "CANCEL IT NOW" option to your reservation, whether that's for a cabin rental, zipline adventure or boat rental.  Click here to learn more about these flexible cancellation options and the fee associated with our "CANCEL IT NOW" option.
Romantic Hot Tub Cabins
You haven't done Ponca right until you've stayed in one of our fantastic hot tub cabins!  These are our most-requested cabin rentals, offering commanding, sweeping views across the Ozark Mountains and upper Buffalo River wilderness.  These cabins are popular year 'round and book well in advance, so if you have a specific time frame in mind for an adventure, be sure to book as soon as you know your vacation dates.  By the way, we check our hot tubs daily for water temperature, quality and depth.  Yet another great reason to have total confidence when you choose a Buffalo Outdoor Center hot tub cabin as your adventure basecamp!
Pet-Friendly Cabins
Have a four-legged friend?  No problem!  At Buffalo Outdoor Center, your canine pals are welcome at several great BOC pet-friendly rental cabins.  Need a pet-friendly hiking trail?  Check out these Ponca area trails where pets can join in the adventure!
Our Outstanding Staff
Our Experience
We're proud of our 47 years (and counting!) of experience in Buffalo River country, giving us an in-depth and unmatched knowledge of all things Buffalo National River.  So, whether you need hiking suggestions, float trip planning, or driving directions, our team is happy—and highly qualified—to help.  New to the Buffalo National River?  Don't worry, first-timers are our specialty!
Our Availability
At BOC, we're onsite and ready to assist, whether you have a vehicle with a flat tire or simply need some extra towels.  After hours, you never have to wonder if someone will be available to help should your cabin develop an urgent issue.  You see, renting cabins isn't just a side hustle for us—it's serious business, and your happiness and comfort are our highest priority, 24/7/365.
Our favorite place in Arkansas! This is the best place to get all you need to experience the Buffalo River and find out about trails and hiking. Cabins are amazing and the staff is the best!!!
– Heidi J.
Ready to Book?
We're ready to welcome you!  Choose the Buffalo Outdoor Center cabin of your vacation dreams now!