BOC Vacations
Family Reunions
A family reunion at BOC brings together the best of everything for your loved ones: quality comforts and spaces designed with group gatherings and meal prep in mind. Plus a backdrop of scenic beauty like nowhere else for states around. All at an affordable, budget-friendly rate.

Our most popular rentals for family reunions are RiverWind Lodge and Ponca Creek Lodge, each with their own unique architecture, spacious accommodations and beautiful location.
Riverwind Lodge
Mountain-top luxury with a big-as-all-Arkansas-outdoors view
RiverWind Lodge is one of the finest group rental properties anywhere, yet offers guests luxury accommodations at a great value. The lodge boasts a commanding 30-mile view across the upper Buffalo River wilderness, as well as plenty of room for your guests to roam both indoors and out. RiverWind Lodge sleeps up to 36 guests (db occ) in spacious, private bedrooms, each with private bathroom, smart TV and AC/heat control. Some bedrooms even have balconies where you can enjoy a cup of coffee while drinking in the view of the mountains!
RiverWind features beautiful, wide-open gathering spaces. Your family and friends can even dine al fresco at the lodge's outdoor chair-rail seating. Looking for easy meal prep for your reunion or getaway? RiverWind Lodge's kitchen is your Top Chef's dream, with miles of counterspace, a commercial-size refrigerator, and double the ovens and microwaves.
Learn more about RiverWind Lodge and its countless amenities, including an outdoor hot tub deck!
Ponca Creek Lodge
A one-of-kind lodge like no other in Arkansas
With 5,000-sq feet of gorgeous living space and a craftsman feel, Ponca Creek Lodge is the perfect rental for an unforgettable family reunion or gathering of friends. From outdoor fireplaces and wide-open deck spaces to beautiful, spacious indoor living areas, Ponca Creek Lodge gives folks plenty of room to social distance, yet be together in an intimate setting. At night, guests can turn in to their private quarters featuring unique Jacuzzi showerbaths and private sitting areas. The lodge's huge loft area also provides additional sleeping and gathering space.
Located along Ponca Creek, Ponca Creek Lodge surrounds guests with the sights and sounds of nature. Indoors, the Natural State inspiration continues with a massive nativestone fireplace serving as the living room's focal point and unique hardwood finishes accenting the architecture everywhere you turn.
If you've been looking for that extra special place to reconnect with loved ones, learn more about this truly unique group lodge rental now!
Big Sky Cabin
Have a smaller family gathering? Try our newest cabin, Big Sky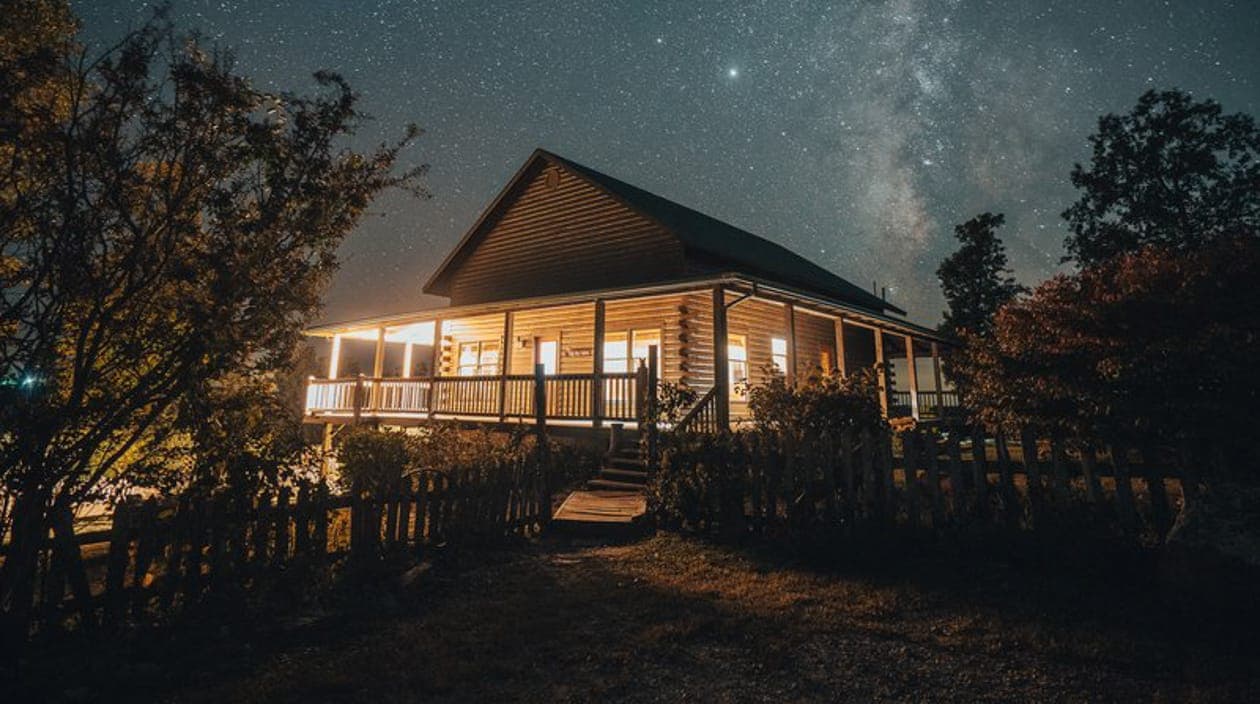 Our Big Sky Cabin, with its stellar mountain-top location, offers lodging for up to 12 guests (dbl occ) and provides plenty of room inside and out for a small group.
Need Additional Lodging?
All three rentals have other BOC cabin rentals within a quick drive, so it's easy to keep everyone convenient to your main reunion location.
Hosting a Larger Event?
We offer banquet table / chair rental, and can provide suggestions for local caterers and photographers. Simply call our Adventure Staff for assistance at 870-861-5514 or Contact Us.