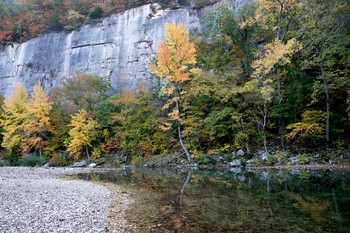 Planning a camping trip to the Ponca area this fall?  Here's some handy information you'll want to be familiar with before arriving!
National Park Campsites
NPS campsites in the upper river district are first-come, first-serve only.
Sites are $12 per night; up to 6 campers per site.
Each site has a campfire ring; level, grassy tent area; picnic table; and pole for an outdoor lantern.
There are no electric hookups at upper river campground sites.
Drinking water and flushable toilets are available through November 15th.
Cell service is very limited in this area, especially in the valleys.  You may be able to have intermitten cell service at Steel Creek, but don't count on it.  There is absolutely no cell service at Kyle's Landing.
RVs and campers are not permitted in upper district campgrounds due to the steep terrain
and/or unimproved road conditions.
Dispersed camping is permitted, but you must camp at least 1/2-mile from an official NPS campground.
There are no longer any camping facilities at the Lost Valley trailhead.
LEAVE NO TRACE
Please, PLEASE do not use the campground gravel bars or trails as your personal restroom. Also, please keep them free of unsightly and unsanitary toilet paper.  Zip-lock bags are perfect for just such occasions.
Disperse with any rock fire rings or cairn art you create so as to leave the gravel bar in its natural state.
Trash:  This is a pack-in, pack-out park.  Also, glass is not permitted on the river.
MORE HELPFUL INFO
Campsites fill quickly on Fridays, so the sooner you can arrive the better.  Inclement weather, however, can limit the demand for sites which can work in your favor.
Bring your own firewood or purchase it locally; gravel bar wood is scarce and you cannot saw off the limbs of standing trees.  We have firewood at the BOC store for $7.99+tax per armload.
Ticks and chiggers can still be out, so pack bug spray along.
Our store is stocked with a lot of great happy camper stuff, including: bottled and gallon jugs of water, ice, a nice assortment of grocery staples, a broad selection of cold beverages, soft-serve ice cream, hot coffee, personal items, first-aid supplies, quality fleece clothing, and long-sleeved apparel.  Hearty, freshly-made deli shandwiches and loaded breakfast burritos are also available throughout the day.  For produce and fresh-cut meat, visit the Harp's Grocery in Jasper (@ 14 miles south of Ponca on Hwy 74).
This is a dry county; however, the city of Harrison is located about 25 miles away (north on Hwy 43 out of Ponca) and offers a variety of beverage stores.
An emergency phone is located at the east end of the Steel Creek horse camp and at the restroom building at Kyle's Landing.  These phones ring to MROCC, which is the regional emergency response center.
The Newton County Sheriff's Office phone number is:  870-446-5124.
Because of the area's remote and oftentimes rugged terrain, medical attention and rescue assistance can take a while to reach you. Carry matches, plenty of water, snacks, a rain jacket, and dress in quick-dry layers to help minimize exposure to changing weather conditions or unexpected prolonged outings.  A first-aid kit is also wise to have on hand, whether in camp or on the trail.
For even more information, click here for access to the NPS' Buffalo National River campground page.
Now go have a relaxing, rejuvenating and super fun time out there camping in the beauty of Arkansas' greatest natural treasure—the one, the only Buffalo National River!

Sign Up for our newsletter
Get the latest updates from the Buffalo!