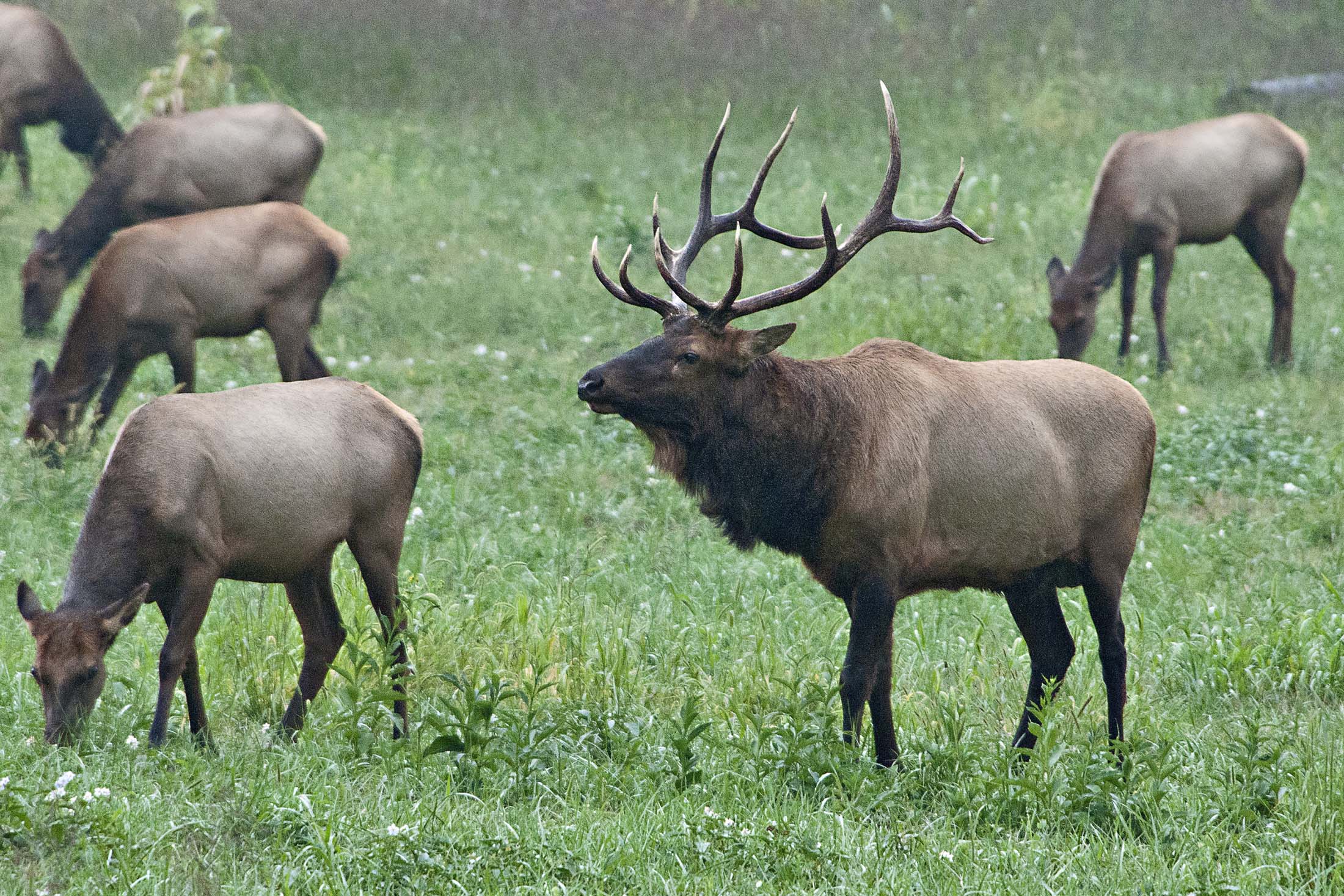 Watching Ponca's majestic Rocky Mountain Elk in the fall is one of the finest wildlife experiences you can have not only in Arkansas, but in all of America!  The elk are reliably viewable almost year 'round, but especially in the fall when majestic bulls are in prime mating season form, bugling and battling for herd domination right before your eyes.  This event occurs now through late October, although elk can be easily viewed throughout the fall and winter in the nearby Boxley Valley.  But right now, testosterone levels are running inordinately high!
WHERE TO FIND ELK NEAR PONCA
Elk tend to feed in the fields that lie along the Buffalo National River near Ponca and south through the Boxley Valley along Hwys 43 and 21.  Just after sunrise and again in the late afternoon are ideal times to watch and photograph elk.  Elk can be anywhere from the Ponca access (low water bridge area) south to the trailhead for the Buffalo River Trail on Hwy 21, which is about a 7-mile range.  When parking and standing roadside, be sure to move well onto the shoulder out of the thru-traffic.  And, if you see litter lying about, the elk appreciate you picking it up and helping keep the river a beautiful place to be!  Also, be sure to never approach elk—they look harmless, but are not afraid to use those giant, powerful antlers.
ARE ELK NATIVE TO THE BUFFALO RIVER?
Yes, they are!  The Rocky Mountain Elk that were introduced here a few years ago replace the somewhat smaller Eastern Elk that had been hunted into extinction.  The Arkansas Game & Fish Commission exchanged smallmouth bass for elk with the state of Colorado in order to re-establish a herd.  Today the Buffalo National River has elk ranging throughout its length and a herd population of more than 700 animals.  Be sure to visit the AG&F's Elk Education Center, just south our store in Ponca. Admission is free and it's an engaging exhibit for kids and grown-ups alike!

Sign Up for our newsletter
Get the latest updates from the Buffalo!