You could spend a lifetime exploring the upper Buffalo National River on foot, with something beautiful and inspiring to discover around nearly every bend in the trail. However, if we had to narrow it down to a handful of trails to recommend to someone just becoming acquainted with Buffalo River country, these are the ones we'd highly recommend!
Buffalo River Waterfall Trails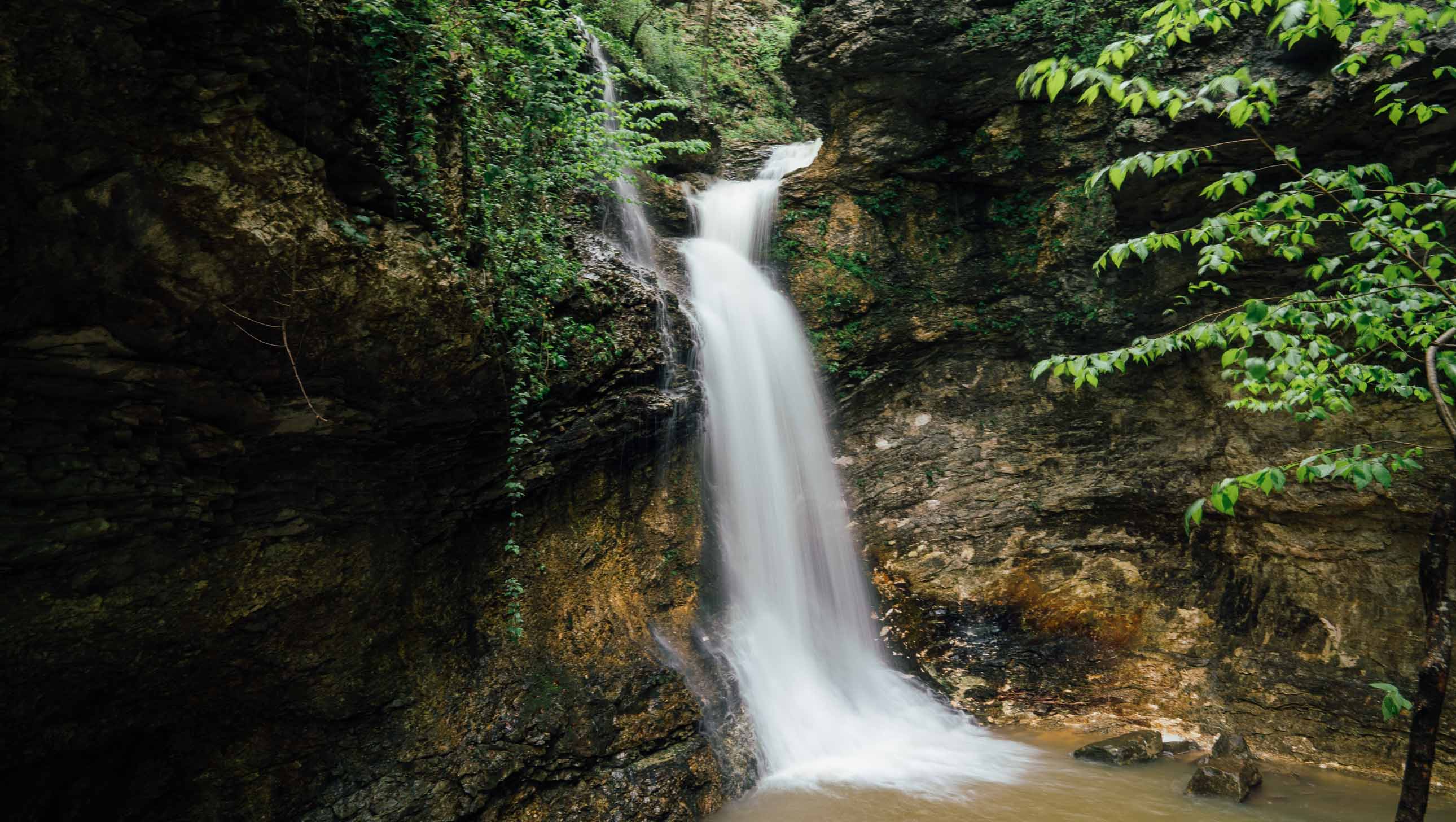 These iconic Buffalo River wilderness trails offer outstanding natural beauty any time of year and, when it's been raining or snowing, the waterfall action is a photographer's dream! Click on the links for specific trail info and a printable trail map pdf.
(Note: Please wear orange while on trails during hunting seasons)
Lost Valley | Hideout Hollow | Hemmed-In Hollow | Whitaker Point | Twin Falls & Other Trails (no map required)
Big Adventure Trails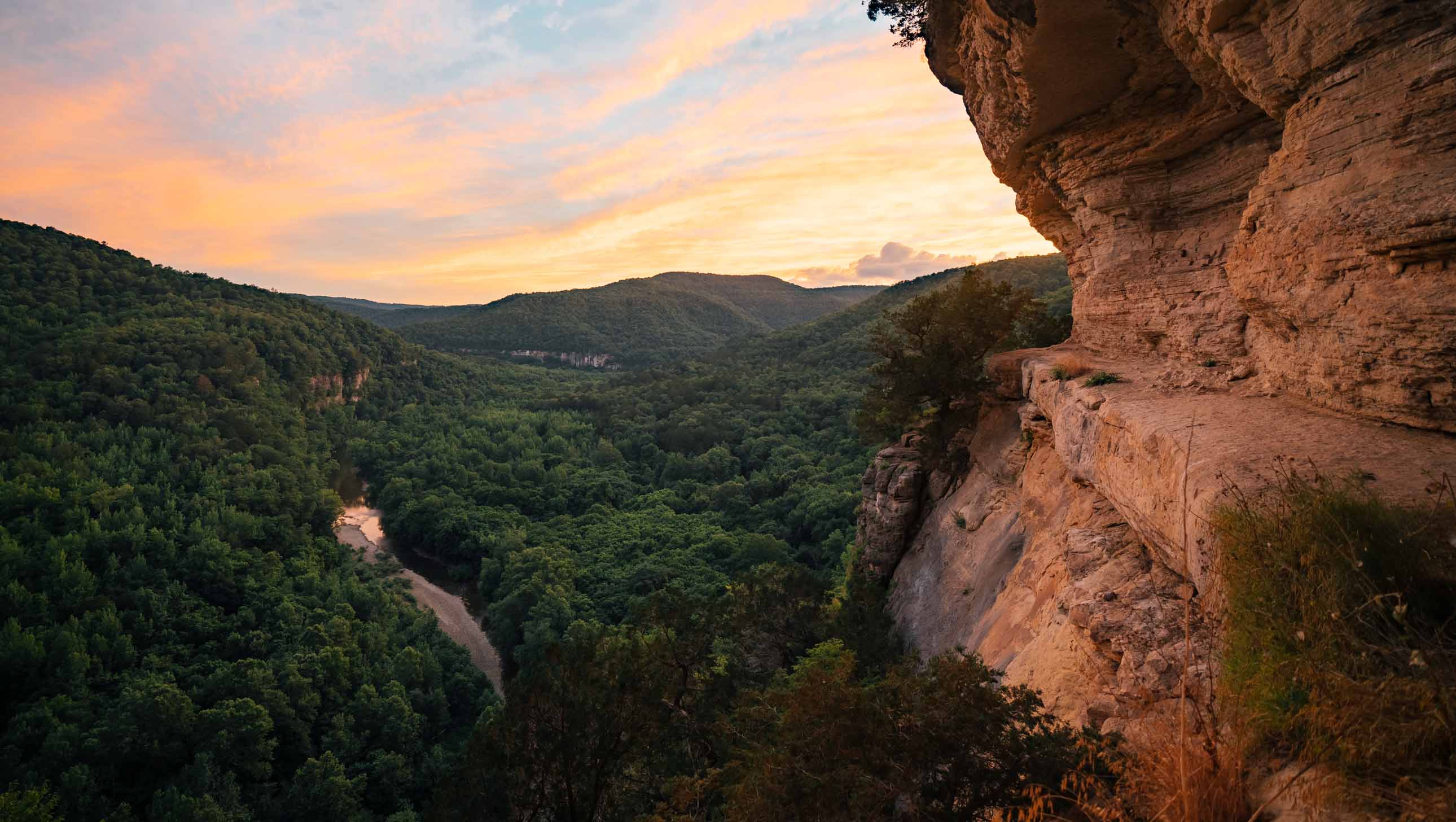 Looking to up the hiking ante? These trails will give you a workout, but the scenery is well worth the effort!
More Trail Adventure
But wait, there's more! These trails make for beautiful hiking any season of the year!
Ponca to Steel Creek Trail
FEATURES: Family Trail | Waterfall Ledges | Shaded | River Views
2 Miles / One Way: There are a couple of ways to enjoy this pretty bench trail that offers views down onto the Buffalo River as it wanders between the Ponca low water bridge and the Steel Creek Campground. One way is to hike it from Ponca and have your car waiting at the Steel Creek Campground where you'll finish up. The other is to hike it one way, stop and have a snack or lunch in the campground, then hike back to Ponca (about 4 miles R/T). If you have kids, shuttle service may be the way to go as 2 miles is probably plenty for everyone. A shuttle is $30 per vehicle. If you have two vehicles in your party, then you can run your own shuttle by dropping off a car at the campground then driving back to the Ponca low water bridge in the other car and starting your hike.
The trailhead is located across the low water bridge and to the left (it is marked). While there, take an extra 15 minutes and walk straight up the old road in front of you and visit the old Beaver Jim Villines cabin. It's worth the detour! This is a nice trail to hike year 'round, although summertime hikers will want to spray with bug repellent beforehand. In summer, all Buffalo River trails have some grasses along them that are easy to brush against and which can host critters looking for a snack!
Steel Creek Overlook Trail
FEATURES: Sweeping View of Roark Bluff | Creekside Hiking | Stately Beech Trees
The trailhead for the overlook is located at the horse camp, right at the foot of the mountain you've just driven down and where the pavement ends. Park right next to the horse camp and the trailhead is basically right behind you. It's about a mile or so to the top of the overlook, which affords a wonderful view of majestic Roark Bluff (3/4's of a mile long!). The first part of the trail follows a bench above the horse camp and the former ranger housing. There are a number of beautiful beech trees along the way, as well as a couple of scenic ledge areas that run with water after a good rain. The trail eventually dips down and follows Steel Creek for a short bit, which you will eventually have to cross. In low water, creek rocks help you cross without getting your feet wet. Other times, you may find yourself ankle or boot top deep in order to cross. (Never cross if the water is high or swift. Save the overlook for another day.) Assuming it is safe to cross, watch for the trail to appear (there's a white marker on a tree) on the opposite bank, then follow it another 1/2 mile or so to the overlook. Sit for a speel and enjoy the vista! Photographs are best if taken before noon, as the sun will beam right into your lens after lunch time.
Cherry Grove Cemetery
FEATURES: Historic Homestead & Cemetery | River Access | Family Hike
2 Miles R/T: For the chance to see an early 1800's farmstead, the well-preserved Parker-Hickman homeplace offers a unique glimpse back to how a pioneer family lived on the Buffalo River. It's a special place and deserving of our utmost respect. (Thank you for observing National Park Service rules by not defacing historic buildings, nor removing artifacts---including barn wood---from the site.) To visit Cherry Grove Cemetery, park at the homestead and follow the old road that takes off across a small creek in the yard and up the hill. It's about 1 mile to the pretty, peaceful cemetery, which features pre-Civil war graves, plus, the graves of Civil War soldiers. You can also meander down to the river from the cemetery and even follow a spur trail to the right (east), which loops back to the homestead. (It's about the same distance as walking back the way you came.) If the river is low, you can cross the Erbie Ford and visit a historic barn, plus, access the trailhead to the Goat Bluff, which is another nice 2-hour adventure. There's a lot to see in the Erbie area and we recommend having a good Trails Illustrated Buffalo National River map or Tim Ernst's excellent Buffalo River Hiking Trails book to help you locate and navigate trails in the Erbie area. The maps and books are available in our store.
COMING TO HIKE & NEED LODGING? Click here to explore our beautiful CABIN RENTAL options!
---
Thank you for joining us in our ongoing effort to pick up litter along Buffalo National River trails. Every water bottle, gum wrapper and cigarette matters! Pet Owners: Please note that the National Park Service does not permit pets on trails within the park. Pets are, however, permitted in campgrounds on a leash and you may float with your pet.
---