Ready to zip? Find all the important info below, including a helpful podcast of what to expect!
Canopy Tour Podcast
More than a zip line...it's an adventure!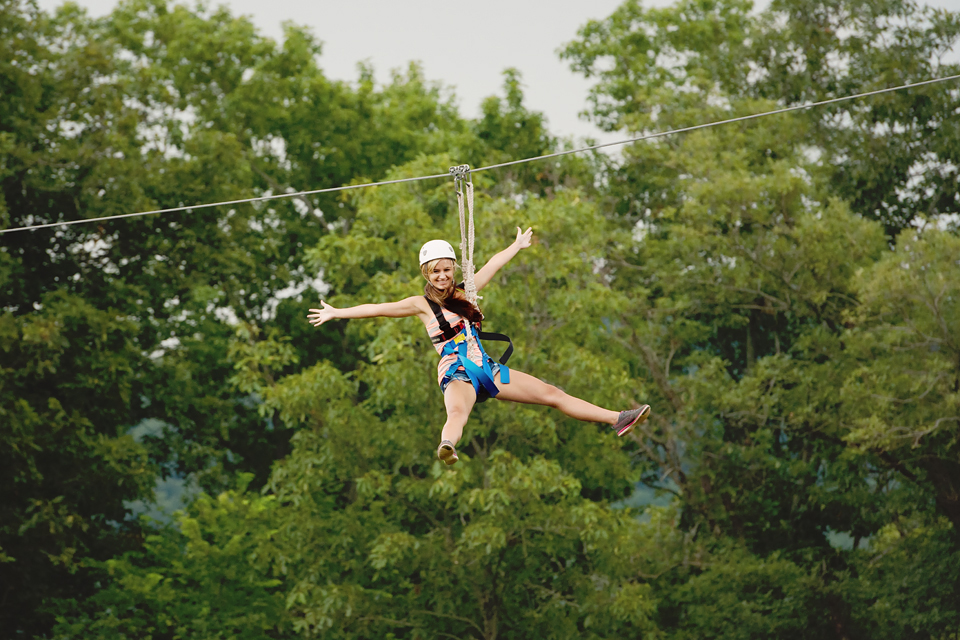 Buffalo Outdoor Center is home to Arkansas' premier wilderness zip line experience! Many of our lofty, tree-friendly platforms are built around actual live Ozark Mountain hardwood trees. And, we'll eat our helmets if our tree team isn't one of the finest, most safety-conscious group of zip line guides in America.
The tour is for guests ages 7+ and who weigh between 70 and 250 lbs. Click here for answers to frequently asked questions about our Buffalo River Canopy Tour, including guidelines and health restrictions.
WHAT GUESTS ARE SAYING
"We had a blast in the tree's on the zip line with my boys and their friends. Going to have to go back with my daughter and a group of my girlfriends. Our tour guides were GREAT! Thanks for a wonderful experience. :)"
"We had a blast! Our zipline guides were so nice and so helpful! The views were beautiful!"
"Highly recommend the zip line canopy tour. Mark and Ben and Laura were great!"
"AAAAAAAAAAAAAAHHHHHH!!!!!!!!!!!!! I'm 50 and I can fly!!!! Great fun and mother /daughter quality time."
DID YOU KNOW?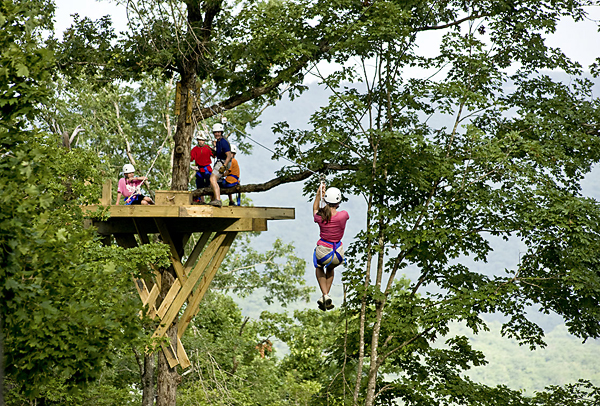 Women age 50+ are some of our most avid zip line fans. And the age record for any guest was an 86-yr old grandmother...go, granny!
WHAT IS A ZIPLINE CANOPY TOUR?

Guided zipline canopy tours originated in Costa Rica as a way for people to experience the flora and fauna that is unique to the dense leafy canopy of a rainforest. Our Ozark Mountain hardwood forest canopy has its own bird, plant, and animal life, which our guided tour is designed to introduce you to as you glide along from tree to tree!
From a structural standpoint, our canopy tour is a system of cables and platforms, wherein the participant "glides" or "zips" through the treetops while connected to the cable via a harness. A large wooden platform serves as a landing base in each tree that you "zip to." Our canopy tour facility was built in accordance with Association of Challenge Course Technology recommended guidelines.
The tour takes approximately 2 hours to complete, give or take a few minutes. Precisely how long it lasts is determined by a variety of factors, including weather and the physical ability of each participant.
2017 ZIP LINE TOUR DATES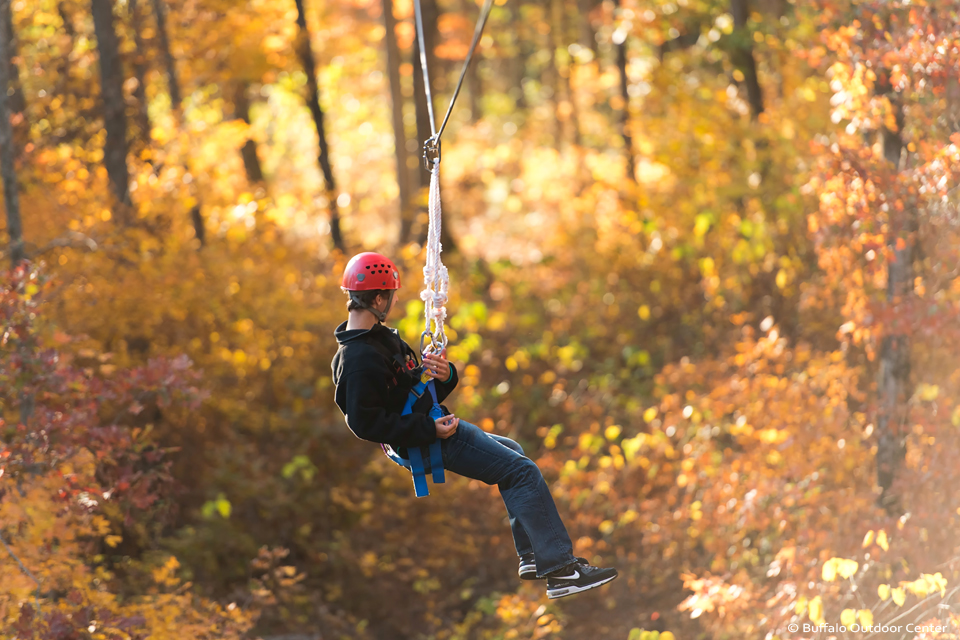 March-May:
March 1st - May 28th (Wed - Sun)
May 29th (Monday, Memorial Day)
June:
June 1st - 4th (Thurs - Sun)
June 7th - 25th (Wed - Sun)
June 29th - 30th (Thurs - Fri)
July:
July 1st - 4th (Sat - Tues)
July 7th - 9th (Fri - Sun)
July 12th - 31st (Wed - Sun)
August:
August 1st - 13th (Wed - Sun)
August 19th - 20th (Sat - Sun)
August 26th - 27th (Sat - Sun)
September:
August 31st- September 4th (Labor Day Weekend)
September 9th - 10th (Sat - Sun)
September 16th - 17th (Sat - Sun)
September 23rd - 24th (Sat - Sun)
September 30th - Oct 1st (Sat - Sun)
October:
October 1st (Sun)
October 4th - 29th (Wed - Sun)
November:
November 1st - 18th (Wed - Sun)
(Tour Closes November 18th and reopens March 2018)
Call 870-861-5514 for tour time availability for your chosen date!
ZIP LINE RATE: $89+tax per person
GROUP RATE: Groups of 8 to 10 guests qualify for a $79+tax per person rate
---
BUFFALO RIVER CANOPY TOUR
RISK AGREEMENT | PAYMENT & CANCELLATION POLICY | BEFORE YOU ZIP | DIRECTIONS FROM PONCA