The Albuquerque International Balloon Fiesta is one of the most astounding, unforgettable outdoor events you can ever experience.  However, making travel plans for this 9-day, world-renowned hot air balloon festival can quickly turn into a daunting list of questions.  How many days should I attend?  Are some days better than others?  Is it crowded?  Where do I stay?  What happens if the weather is bad?   Can I book a hot air balloon ride?  There's a lot to be aware of, but with the help of our Insider's Guide, you'll be well on your way to making plans for a future Balloon Fiesta!
Sharing Our Balloon Fiesta Experience

We've attended Balloon Fiesta twice now as pilots and crew, which means we've spent a lot of time there (20 days total to be exact), which has given us a solid appreciation for what goes on.  Our most recent experience was this past October, where we flew our Miss Arkansas balloon in the 50th annual Balloon Fiesta.  Miss Arkansas was one of only two state balloons appearing there, and it was heartwarming to see the excitement and state pride on the faces of fellow Arkansans attending the event as she took to the Albuquerque sky!
So, now that you have a feel for our experience at the event, let's begin with a brief overview of what a typical Balloon Fiesta Saturday is like, which is one of the most popular days for attendance.
Morning Mass Ascensions
The morning of a mass ascension is not a day to sleep in as the very first event kicks off at 6:00 AM!  Believe it or not, the traffic pouring into Balloon Fiesta is already lively at 4:00 AM, turning very heavy by 5:00 AM.  Once through admission and security, you'll find plenty to do before things kick off.  Vendor booths are already open on the field, so you can grab a hearty breakfast burrito or shop for a souvenir as you wait for the event to begin.
My favorite part of Balloon Fiesta is actually the very first event of the day:  Dawn Patrol.  A dozen or so balloons inflate at 6:00 AM and then glow (tethered on the ground) for 15-20 minutes before they launch into the pre-dawn Albuquerque sky.  As they rise above the field, Dawn Patrol balloons resemble giant, twinkling Chinese lanterns.  It's a very stirring sight and one you'll never forget.  Dawn Patrol actually serves a dual purpose:  while these balloons are most certainly crowd entertainment, they are also indicators of wind direction and speed to the more than 600 pilots still on the ground.
At 7:00 AM, opening ceremonies begin, followed by the inflation of more than 600 hot air balloons.  A mass ascension is an amazing sight as launch directors signal row upon row of balloons to inflate and launch, including monstrous special shape balloons that come in every shape you can imagine, including Darth Vader, Yoda, the amazing Wera Screwdriver, and Airabelle the Creamland Cow.  Balloon shapes are as varied as the stars, making Balloon Fiesta a photographer's dream and an Instagram selfie paradise!
With 600+ balloons to launch, it usually takes until 8:00 AM for everyone to be in the air, so you get a terrific extended experience in exchange for that early alarm clock you set.  Balloons stay in the air as late as 10:00 AM, so there's a lot of bang for your buck at Albuquerque's event.  Generally by 10:30 AM, the crowd is gone, but other events such as a car show, musical entertainment, remote-control hot air balloon display, etc., are held throughout the day, so you can linger as long as you like.  This is also a good time to shop the many vendor booths, especially the official Balloon Fiesta merchandise tents featuring quality apparel, hats, balloon pins and gift items.
Evening Balloon "Glodeos"
A "Glodeo" is a fantastic event wherein all the special shape balloons inflate and remain tethered on the ground, with pilots firing their burners in concert with an announcer's call to "twinkle glow" or "all burn."  It's a wonderland of light and color.  Glodeos are just as popular as mass ascensions, so if you're driving to the event, arriving at 4:00 PM is a must in order to avoid heavy traffic and delays.  If you have a Park&Ride ticket (see below for more on that), then you'll want to arrive the park by 5:00 PM, as initial events kick off about 5:30 PM.  After the glow is finished (around 7:45 PM), there are other displays and events, including fireworks and the performance of a top-name entertainer.  By 10:00 PM, traffic has begun to lighten and it's time to go back to your hotel or RV and get ready for another early-morning start!
So, now that you have a snapshot of a typical Saturday at Balloon Fiesta, let's move on to some of the questions you're most likely have as a first-time attendee.
Albuqueque Balloon Fiesta Q&A
When Is the 2023 Albuquerque International Balloon Fiesta slated for?
According to the AIBF website, the dates for 2023 are October 7 – 15, with opening ceremonies slated for early Saturday morning, October 7th.
Where is the Balloon Festival held?
The event is held at Balloon Fiesta Park in the northwest part of the city of Albuquerque.  The event field is adjacent to the Anderson Abruzzo International Balloon Fiesta Museum, which is very much worth a visit during your stay.
How much are tickets to the Balloon Fiesta?
Yes, there is a general admission charge for ages 13 and older or you can upgrade your experience with a Chaser's Club, Gondola Club or Skybox ticket purchase.  The Thursday of Balloon Fiesta is Kid's Day, with schoolchildren receiving free admission.  Learn more about ticket prices for Balloon Fiesta under the "Tickets & Reservations" navigation located top-center on the AIBF's homepage.  Tickets go on sale April 7, 2023.  Note that you'll need a ticket for each "session" you attend—meaning, if you attend a morning mass ascension event and then leave the field, you'll need another general admission ticket for the evening "session."
How far ahead should I book my lodging?
Lodging is in big demand during Balloon Fiesta, so you want to plan as far ahead as possible.  Many hotels do not permit you to book online for Balloon Fiesta dates at this time, so you will need to call and learn when they start accepting reservations for the 2023 event.  Airbnb and VRBO operators may offer reservation bookings now, as well as RV parks in the Albuquerque area.  Here's a link to the AIBF's Hotels page for 2023 reservations, where you can get a feel for who participates in Balloon Fiesta discounted hotel rates.  If you need car rental, you will also want to book it as soon as you know your travel dates.
Can I RV at the Balloon Fiesta event field?
Yes, you can!  It's actually one of THE best ways to experience Balloon Fiesta up close and personal.  There are RV lots surrounding the event field, as well as about 1 mile away in what is called the South Lot.  Because of the wind currents over the event field, RVers are frequently treated to balloons flying directly overhead and even landing in the lots themselves.  It's a great way to enjoy a mass ascension of the more than 600 hot air balloons from the comfort of your lawn chair and without ever having to leave your RV!  Balloon Fiesta RV sites open for reservations on January 11, 2023.  The lots surrounding the event field perimeter are gravel and have no hookups.  However, a sewer pump truck and fresh water service is available for a fee.  (It's wise to go book your pump / fresh water services as soon as you are set up in your site.)  Certain RV brands host sections in these lots exclusively for their customers, such as Newmar and Airstream.  Check with your RV dealer or manufacturer for details.  Airstream owners can visit this website for information about RVing Balloon Fiesta.  The South Lot, located about 3/4's of a mile from the event field, is a first-come, first-serve type of thing.  We'll talk more about how to plan for staying in the South Lot further on in this article.
Can I tent camp?
According to Balloon Fiesta's website, tent camping is permitted in the South Lot.  A new lodging feature in 2022 was glamping tent rental.  These safari-like tents were situated in a premium area near the event field, offering guests a prime view of every balloon launch and glow.  It's not a cheap date, but the location is ideal, the rate includes admission to all events during your stay and the private area for glampers was grassy, spacious and tidy.
Where do I park?
There are various parking lots surrounding the Balloon Fiesta event that cost $20 per car (2022 price).  As you can imagine, these parking spaces are in high demand.  You can also opt to arrive Balloon Fiesta via shuttle bus, which is a purchased ticket called Park&Ride that also includes a general admission ticket for one person.  With a Park&Ride ticket, you drive to one of several designated pickup spots around the city and are then shuttled to and from the event field.  (Please note that Park&Ride buses do not operate Mon-Wed.)  This system actually works quite well and saves you the hassle of having to fight event traffic, which at certain hours of the day will put any LA freeway traffic jam in its place.
Event traffic is HEAVY and if you're driving your own vehicle, Albuquerque's Finest may have to route you in a direction you hadn't planned on going.  However, the early bird gets the parking spot worm, so arriving the event field far sooner than later is extremely wise.  On mass ascension mornings, that means arriving between 4:00 – 4:30 AM at the latest.  Or, if it's an evening glow you're attending, arriving by 4:00 PM helps ensures you a paid parking spot within a half-mile or so of the event field.  You can learn more about parking options, including maps and Park&Ride locations, in this excellent Balloon Fiesta Guide.  Note that Park&Ride tickets go on sale April 7, 2023.
What are the best days to attend the festival?
There are no bad days to attend Balloon Fiesta as balloon launches and glows are planned throughout the 9-day event, not to mention all kinds of entertainment.  Having said that, the major mass ascensions and special shape "Glodeos" tend to be slated for Saturday and Sunday of the first weekend, and Thursday through Sunday of the second weekend.  On Monday through Wednesday, there are morning competitive launches and a morning glow on Wednesday, but no evening events are slated.  Learn more about how and when events are slated by viewing the 2022 Balloon Fiesta Event Schedule.
What if the weather is bad?
Weather can certainly be a factor—just ask us about all the rain and wind we had during this year's 50th anniversary event.  Whereas during our first time at Balloon Fiesta, we flew every day and not a single event was cancelled.  Fact is, weather is just part of ballooning, as disappointing as it can sometimes be.  However, the folks behind Balloon Fiesta do everything in their power to make things happen for the thousands in attendance, even if that means delaying a launch or glow.  Weather is why it's important not to short your stay in Albuquerque—a minimum of 4-nights / 3-days is a helpful, just in case Mother Nature is feeling uncooperative the year you attend.
Is it crowded?
Yes, it is.  However, Balloon Fiesta is organized chaos at its finest, with the organizers and 1400 volunteers having this event down to a science after 50 years of hosting it.  In fact, it is downright amazing to watch how thousands of people are somehow miraculously parked or bused and funneled into the event field at 4:30 AM, and then by 10:00 AM, that same crowd has trickled down to a few hundred folks lingering at the food or merchandise vendors.  Then, it all begins again around 4:00 PM in the afternoon!
Can I actually walk among the balloons?
Yes!  The crowd is encouraged to walk through the balloon field as balloons prepare for inflation.  It's just important to be mindful of the hundreds of ropes on the ground as you walk around.  And to stay well out of the way as a balloon inflates and launches.
Can I book a balloon ride?
Yes!  It's the ultimate way to experience Balloon Fiesta as you rise among 600+ other balloons into the sky!  Rainbow Ryders is the official balloon ride concession at Balloon Fiesta.  Contact them as soon as you know your travel plans as their rides are extremely popular.
Is there food available?
Yes, a variety of vendors serve food, including breakfast!  I especially love the breakfast burritos at Blake's Lotaburger, which has two locations on the field.  Expect to pay event prices for your food and beverages.  You may also bring your own food and beverages, just be aware that glass containers or bottles, hard-sided coolers and alcohol of any kind are prohibited.
Can I bring a pet?
Pets are not allowed on Balloon Fiesta grounds other than in the surrounding RV lots.
What about RVing in the South Lot?
This enormous and hugely popular dirt / sand lot lies due south of the Balloon Fiesta event field, so it is common to have balloons flying over your rig every morning!  It's also popular because, unlike the other RV lots at Balloon Fiesta, you can't make a reservation in advance—therefore, you have the luxury of watching weather and deciding when you do or don't want to come.  The South Lot accommodates hundreds of RVs on a first-come, first-serve basis.  To get an RV site, you simply arrive the South Lot and get in line.  Some RVers arrive pre-dawn in order to be assured of getting a site.  Mike and I stayed in our RV in the South Lot for nine days.  Our observation was that Thursdays and Fridays are extremely busy with RVs arriving and the wait line can be long.  Monday through Wednesday was steady with arrivals, but a lot of RVers attending the first weekend's events were now leaving, so a number of sites opened up and the wait line was modest or little to none.
As for amenities, most South Lot sites are boondock rally style, having no hookups; only a few have electric and water.  A sewer pump truck service makes rounds every day to pump your black and gray water tanks and also deliver fresh water.  There is a charge for these services, but it is well worth it.  The wise RVers book sewer pump / fresh water services as soon as they arrive and get set up.  The AAA Pumping sign-up office is located just beyond the South Lot Registration Office.
One of the great things about the South Lot is that buses run every morning and evening from there to the event field.  This makes it easy to get back and forth without having to move your tow vehicle.  It's also about a 1-mile easy walk to the event field from the South Lot.  Or, bring your e-bike and you can zip over to Balloon Fiesta, where the Bike Valet attendants will keep it safe and sound—and it's free!
Seeing is believing
Balloon Fiesta is absolutely an experience you should put high on your travel bucket list.  It is simply impossible to appreciate the magnificence of more than 600 colorful hot air balloons simultaneously in the air without witnessing it in person.  We hope this blog post provides you with the inspiration and confidence to plan your first visit.  If you'd like even more inspiration, catch this Balloon Fiesta Live YouTube broadcast featuring coverage of the 2022 50th anniversary event's opening day.  And, be sure to check out AIBF's excellent Balloon Fiesta Guide, as it provides a ton of essential information that will make trip planning even easier!
Please keep in mind the information shared in this post is based on our personal observations and experiences at Balloon Fiesta; your experiences may differ.
In addition, Balloon Fiesta policies, restrictions, rates, schedule, etc. are subject to change, so please thoroughly resource the Balloon Fiesta website prior to making plans or traveling there.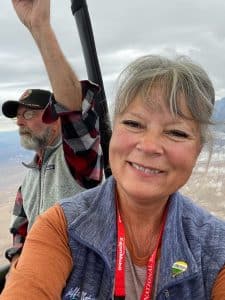 Written By Rhonda Mills, Buffalo Outdoor Center Staff

Sign Up for our newsletter
Get the latest updates from the Buffalo!