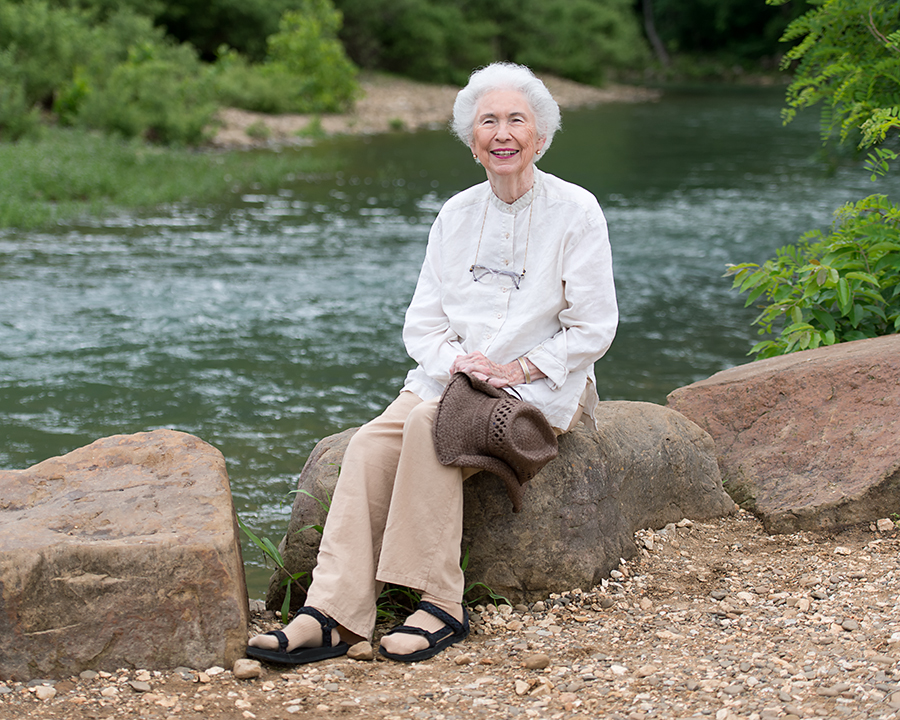 Blog post by:  Mike Mills
Millie Calhoun is 88 years young. And even though she is an Arkansas native, she had never been on the Buffalo National River.
So, as a fan of the popular Exploring Arkansas television show on AETN, she wrote host Chuck Dovish about her desire to float the Buffalo and asked if he knew someone who could paddle her down the river.
Chuck gave me a call and together we planned a float trip for Millie from Steel Creek to Kyle's Landing, the run that many people feel is the showpiece section of the river.
Until the morning of our canoe trip, Millie believed she would be floating the upper Buffalo River in a john boat with a motor attached.  Well, the motor was me and the boat was a 16' Blue Hole canoe with a stadium seat for her in the front. The first few rapids gave her confidence that we were going to be alright in a canoe……..I think!
Within a couple hundred feet of launching, Millie's curiosity had already gotten the best of her.  "What kind a tree is that," she asked.  It was a Box Elder.  I enjoyed answering her questions throughout the trip, as she was very taken with her river surroundings.
Millie loves to fish.  One of her first observations was that she wasn't seeing many fish in the water as we floated along. I explained that they were there, but smallmouth bass like to hide; plus, there were several canoes and kayaks already on the river in front of us.
We stopped at Big Bluff for lunch. I had a camp chair with a foot rest which she sat in. The deli at BOC had provided lunch for the trip and everyone seemed to enjoy it. Back on the water we were able to canoe very close to a very large Great Blue Heron…..that was nice.  We didn't stop at Hemmed-in-Hollow as the walk would have been too difficult for Millie. However, we did pull over at Bear Cave Hollow and admire the first few waterfalls at the mouth of it.  Millie questioned how much longer a couple times, but not because she was anxious to leave—I don't think she was wanting it to end!
It was an honor to join Chuck Dovish and the AETN crew of Exploring Arkansas in helping make a loyal viewer's dream come true. I thoroughly enjoyed watching a young-at-heart woman experience the Buffalo National River for the first time. She told me that it would take her a long time to forget the peace she discovered that day—if she ever did forget it.
"EXPLORING ARKANSAS" AIR DATES / TIMES
Watch Miss Millie and Mike's Buffalo River adventure by tuning into AETN and Chuck Dovish's Exploring Arkansas on:
Monday |  Aug 4th |  6:30 PM
Sunday |  Aug 10th | 5:00 PM

Sign Up for our newsletter
Get the latest updates from the Buffalo!