BOC COVID-19 SAFETY MEASURES
Buffalo Outdoor Center is open and ready to welcome you to Ponca! Thank you for assisting us in our effort to provide a safe adventure and lodging experience for all guests---as well as protect our invaluable staff---by adhering to the following protocols and guidelines: BOC COVID-19 PROTOCOLS & GUIDELINES - ...
Buffalo National River Spring Adventure Guide
Discover the best of the Buffalo National River with our handy Adventure Guide! Learn about cabin and lodge rentals, canoeing, popular hiking trails, RV park sites, tent camping, zipline fun, and our new Ponca Downhill mountain bike trail. From romantic getaways to family vacations, let BOC in Ponca putsthe best of Arkansas at your cabin's doorstep!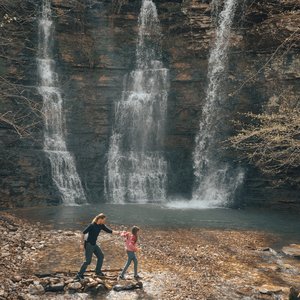 Family Vacation Adventures
Since 1976, we've had the extreme pleasure of watching many a kid discover the wonders of the Buffalo, then grow up to return with his or her children. We'd love to get to know your family and help you introduce them to the beauty (and fun!) of this special national park. BOC families enjoy cabin accommodations with value in mind, as well as plenty to do whatever the season. Let us pour our years of experience into helping you plan outdoor adventures that will have the kids (and you!) never wanting to leave!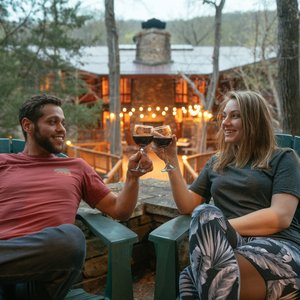 Romantic Getaways
You'll find the most beautiful, inspiring scenery in Arkansas surrounding our resort, making it the perfect place for your romantic cabin escape. Many of our cabins are especially designed with romance in mind, featuring amenities like secluded locations, fireplaces and outdoor hot tubs with big views!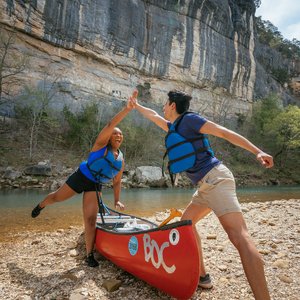 Getaways with Friends
Hosting gatherings of friends is a long-standing tradition here at BOC, with some of our groups having joined us since we first opened in 1976! Several cabins host 6 or more guests, plus, our RiverWind Lodge is the ultimate gang hangout for 36 with its terrific amenities and fabulous mountain-top location. Planning an overnight river camping trip for your buds? How about an RV get-together? We can help with those trip adventures, too!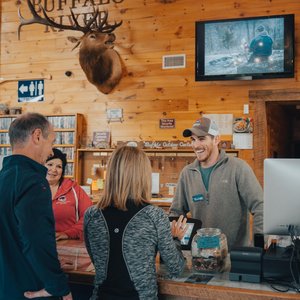 Contact Us
Have a question about Buffalo River cabin rental, canoeing, hiking or zipline tours that may not have been answered on our website? Then give us a shout---we'd love to help! BUFFALO OUTDOOR CENTER PHONE: 1-870-861-5514 EMAIL TO: mailto:boc@buffaloriver.com ADDRESS: ...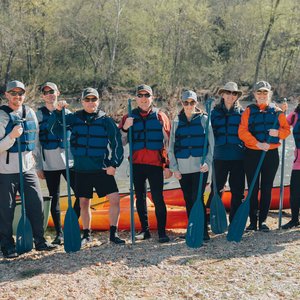 Corporate Retreats
Looking for a retreat location that's a departure from the typical hotel conference room, one with scenic beauty as the backdrop and doesn't take hours upon hours to get to? A place where quality, inspiring adventure activities can be turned into team building, leadership and personal development tools? We believe ...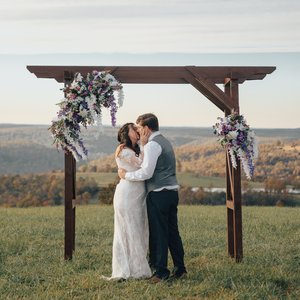 Weddings, Big & Small
Getting ready to say, "I do"? If so, we're your special spot for it! Whether it's a grand affair with plenty of guests or an intimate ceremony for two, we have a setting that's perfect. And, we can even perform the ceremony! Click here to learn more about planning a beautiful, unique wedding in the best of Arkansas' Buffalo River country. (Image by Toni Albers Photography)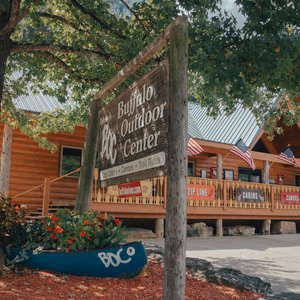 About Ponca | The BOC Store
Ponca is located in the beautiful Arkansas middle of nowhere, yet is only 90 minutes from Northwest Arkansas and 2.5 hours from Little Rock. It's a tiny community with big scenery as its backdrop. Located in the upper Buffalo National River district, Ponca is the home of Arkansas' finest river and trail adventures. Learn more here about Ponca, as well as the things you'll find at the BOC store!
The BOC Deli Menu
Featuring Fresh-Made Deli Sandwiches & More! Open Daily: Mar - Oct / 8:00 AM - 6:00 PM || Nov - Feb / 8:00 AM - 5:00 PM Bite into a hearty taste-bud pleasin' BOC Deli sandwich creation featuring quality all-natural meats and super fresh veggies, surrounded by wholesome breads from ...