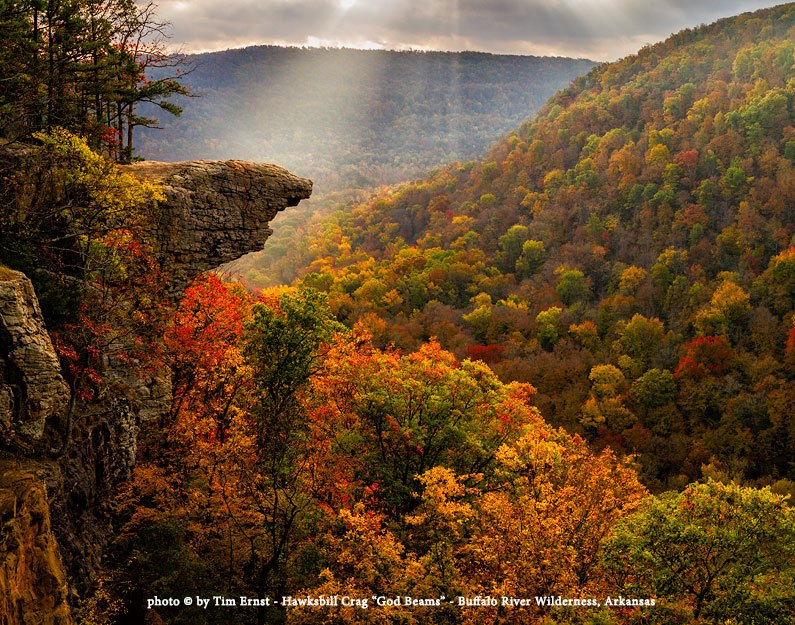 The upper Buffalo National River has received double the national media recognition with recent features in both Backpacker Magazine and Outdoor Photographer Magazine.
Whitaker Point Named to Top 50 Views in America
Backpacker Magazine, in its September 2013 issue, has named Arkansas' most beloved and photographed scenic icon—Whitaker Point (also known as Hawksbill Crag)—as one of the Top 50 Views in America.  The crag is on one of the most popular hiking trails in Arkansas, which along with the Lost Valley Trail, ranks as one of the most popular hiking trails in mid-America.
Buffalo River & Tim Ernst Earn Coveted Cover Shot
For the cover of its October 2013 issue, Outdoor Photographer Magazine has selected a photograph of a double waterfall located in the Buffalo River headwaters area.  Nationally-acclaimed pro outdoor photogapher Tim Ernst, an Arkansas native who lives in upper Buffalo River country, took the image.  This is the first time that scenery in Arkansas has been featured on the cover of Outdoor Photographer Magazine.  In addition, the same OP issue contains a feature article illustrated with yet a second Ernst Arkansas waterfall photograph—this one of a double waterfall along Richland Creek.  One of Ernst's photographs of Whitaker Point was also used to illustrate the Backpacker Magazine article, earning him yet another national publication media honor.
We are so proud of and greatly appreciate the national recognition these highly regarded publications have given Arkansas, the Buffalo River region and one of its finest nature photographers.  The area is yet to be discovered by most people; a backcountry characteristic which is one of its many charms.  Yet, it is nice to know that others consider it some of the finest scenic beauty our great country has to offer.  If you have yet to discover it, we hope you'll put the Buffalo National River at the top of your outdoor bucket list.  We promise that you won't be disappointed in a single moment you spend here.  🙂
HIKING TO WHITAKER POINT (HAWKSBILL CRAG)?
Click here for Whitaker Point hiking trail information, including a handy trail map PDF download.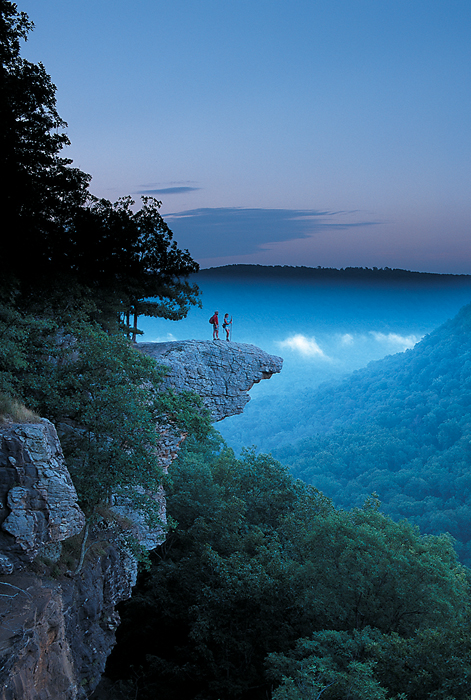 Sign Up for our newsletter
Get the latest updates from the Buffalo!