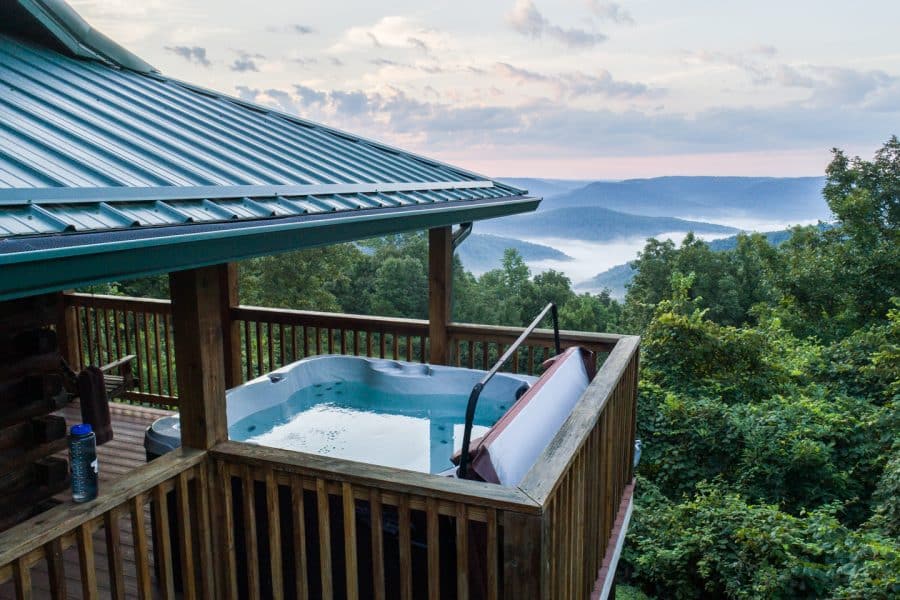 Great For the Entire Family
Rates
$389 per night + tax
Overview
Secluded beauty with a marvelous view is all yours in this terrific cabin rental. Sequestered away at the end of a quiet lane, this cabin offers a high level of privacy and spacious living quarters for up to 6 guests, double occupancy. Outside is just as relaxing as inside with a fabulous hot tub deck and covered front porch awaiting your arrival. Plus, the cabin's decor pays tribute to our great love of hot air ballooning!
Amenities
3 queen-size beds
Native stone fireplace
Fully furnished kitchen, including coffeemaker and filters
TV with DVD player / CD player
Free access to our library of DVDs*
Fully furnished showerbath
Blow dryer and soap/shampoo amenities
Outdoor hot tub deck
Complimentary WIFI & Dish Network service
All bed, bath, and kitchen linens
Heat/AC and ceiling fan comfort
Front porch swing
Charcoal grill
Firewood and kindling
Maintenance staff available 24/7
Details
TV:
Stay in and relax with a flatscreen smart TV with Dish Network service and a BluRay DVD player. Enjoy our large library of free DVDs available at our store during your stay.
Directions to Cell Service:
Cell service is not available at this cabin, but it can typically be found outside of Ponca. Drive 3 miles north of Ponca on Hwy 43, then turn left at the Centerpoint trailhead onto Firetower Road. Continue driving along Firetower Road until your phone has an adequate signal.
WiFi:
All cabins are equipped with complimentary WiFi. Please note that WiFi is a free service and due to our secluded area, may not always be the most dependable due to circumstances beyond our control.
Hot Tubs:
All hot tubs are drained and cleaned regularly. Please allow 4-6 hours for the hot tub to heat properly.
Secluded Cabin:
This cabin is secluded and private from neighbors.
Pet-Friendly Cabin:
Pets are welcome in this cabin, with a $29 + tax charge per night, per pet. Two pets maximum, please! And don't forget to pick up your Pet Kit upon arrival, which includes dog treats, a sleep sheet and waste bags.
Pet Etiquette:
We love having your pets along, but out of consideration for future guests, please follow proper pet etiquette. Please do not permit your pet to sleep or lounge on a bed, and large dogs should not be allowed on any furniture. When you take your pooch on a walk, please keep your pet on a leash at all times when outside the cabin. Pets must be crated when left alone in a cabin. Thank you for picking up pet waste (with the bags provided upon check-in) in the cabin's yard and disposing of it in the outside trash can prior to departure.
Tents, RVs & Campfires:
Tents, RVs and campfires are not permitted on cabin grounds. For an RV site, please visit our RV Park page.
Smoking:
Smoking is not permitted inside the cabin. Please smoke outside and discard butts in the receptacle provided.