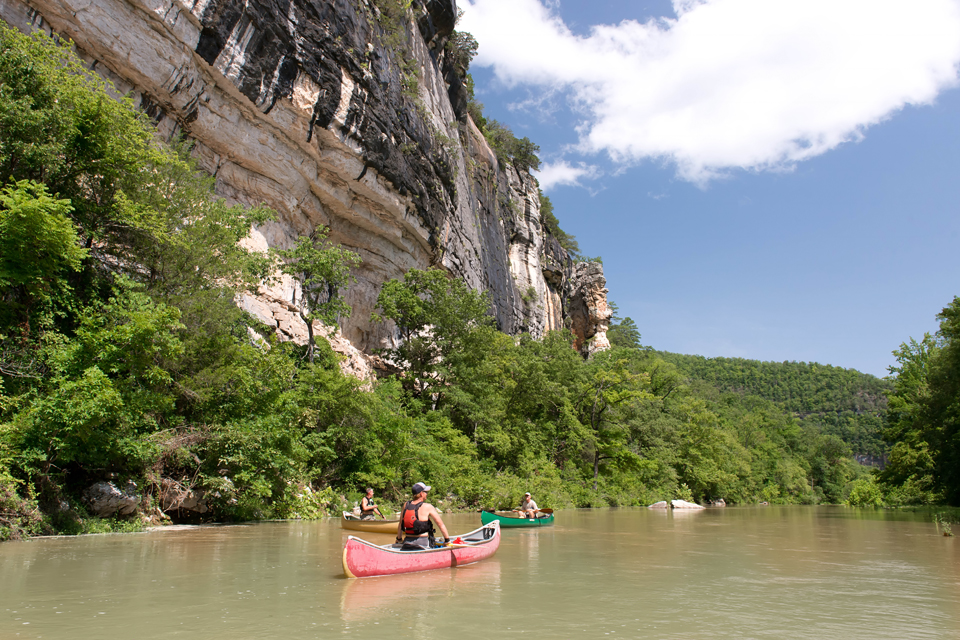 Buffalo River fans are enjoying a late-summer opportunity to float the river from Ponca to Kyle's Landing, home of the finest canoeing scenery in Arkansas. Several weeks of frequent rain had brought the water table to a point where one heavy rain would push the river up high enough for floating. But the rainfall had teased paddlers with just enough to keep the river looking pretty, but not floatable.
Then, during the early morning hours of August 8th, it finally happened—thanks to a heavy morning rain, the Buffalo River rose to 12″ of airspace under the Ponca low water bridge, which is considered by many to be a canoeing level that moves along nicely and makes paddling a joy, not a chore. Paddlers were excited about the spike in river level, thinking the river would be possible to run for a couple of days. This set a new record for August floating as in 1979 a spike in river level had permitted a single day of canoeing.
But the cherry on the sundae came when in the early morning hours of Saturday, August 10th, heavy rain moved into the area and brought the river up to flood stage. At noon, the Buffalo River crested at 11 feet on the Ponca USGS gage and was running at a stunning 9,000 cfs. In comparison, it had been flowing at 30 cfs just two days earlier.
BOC is renting canoes, kayaks and rafts while the water level holds, which as of this posting (Sunday, August 11th) should be at least 2-3 more days. Even then, it is possible we will move downriver to the Pruitt launch for another couple of days, thereby extending the floating into the latter part of the week.
In the summer, the river comes up fast and goes down just as quickly—so expect this unique high-water event to be short-lived. Follow our Buffalo River Level Report to keep an eye on current water level conditions at Ponca as you make your upper Buffalo River canoeing or kayaking plans.
WATCH FOOTAGE OF PONCA'S HISTORIC AUGUST 10TH FLOOD

Sign Up for our newsletter
Get the latest updates from the Buffalo!