When looking for a venue for your outdoor or rustic wedding, you should consider booking with the Buffalo Outdoor Center, and here's why. The BOC offers versatile services to accommodate intimate and large events alike. Every wedding is as unique as the couples planning them. That's why when you are looking for the right venue for your special day, options and flexibility are paramount. At the Buffalo Outdoor Center there are twenty six different cabins, two lodges, and a number of privately owned outdoor spaces. Whether you envision an elegant indoor wedding with a rustic outdoor backdrop or an outdoor ceremony in a location as adventurous as you are, the BOC has a spot for you. Whatever you evision, just be sure to let our event coordinator, Mary Catherine, know what you are looking for and what your needs are. She is sure to provide you with options to help you create the wedding you envision.
Plenty of Lodging for Guests
One of the many unique things about having your wedding at The Buffalo Outdoor Center is that nearly all of the beautiful wedding spaces include lodging. The cabins offered include intimate honeymoon style cabins perfect for two, mid-sized cabins from four person to eight person capacities (perfect for the family), and even two large lodges that can accommodate sixteen to thirty-six of your friends and family all in one place! There is a unique cabin that was recently made available, called the Big Sky Cabin. The Big Sky is a twelve-person cabin with a large yard perfect for an outdoor reception. The value in having lodging onsite at your wedding venue includes being able to have the time to create the space you want before the event in addition to convenience for the whole party.
Fun for the Whole Family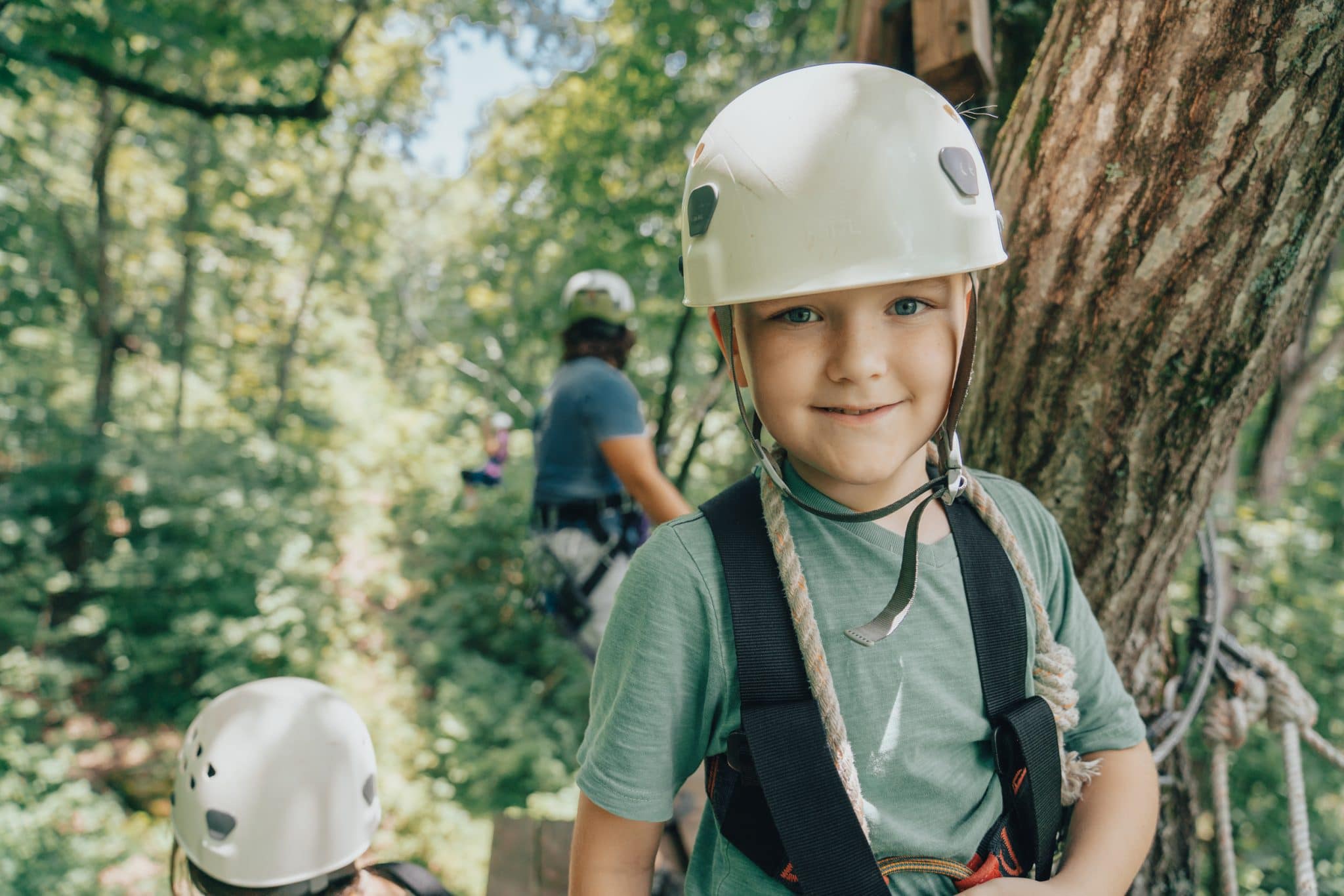 If you have never experienced Buffalo River country for yourself, you are in for a one-of-a-kind experience. The BOC is surrounded by miles upon miles of Arkansas' most iconic hiking, canoeing, and mountain biking. There is fun for the whole family! Whether you and your family plan to stay for a couple of days or a whole week there are options for everyone. The Buffalo Outdoor Center is located in Ponca, Arkansas, a town with a population of nine people, which is a unique experience in itself. Ponca neighbors a town called Jasper which has a quaint downtown area with local antique shops, historic cafes, and much more. From adventure to that one-of-a-kind Arkansas charm this area has it all. The BOC also offers a mile-long zip-line style canopy tour through the Ponca wilderness and the longest downhill mountain bike trail in the state of Arkansas. Other local attractions include horseback riding, cave tours, and elk viewing.
Connected with Local Resources
Established in 1976 The Buffalo Outdoor Center has been an active part of the local community. For years and in some cases decades, the BOC has worked with local companies and individuals that provide services from catering, photography, officiating, event rentals, floral arrangements, and much more. Each "out of house," recommendation of the BOC's offers the same high quality and consistent customer service that the BOC strives to offer. Whatever your needs are you can be matched with the right local resources!
Easy Travel Access
Travel convenience is a huge consideration when choosing a wedding location. The Buffalo Outdoor Center is an easy one day drive from anywhere in Northwest and Central Arkansas. Are you and your guests flying in from out of state? No problem, the outdoor center is a ninety minute drive from XNA and a two and a half hour drive from the Little Rock airport. All the serenity and solitude of a wilderness setting, without having to work for it!
Informed Staff
The employees at the BOC are passionate about the area they serve and work closely with the National Park to stay up to date on relevant information. Including, how to direct guests who would like to have an outdoor ceremony within the National Park to the proper avenue for permitting. Whether you want to get married on top of an iconic bluffline, under the incredible Ozark mountain ridges, or right next to the Buffalo River, it is all conveniently located to BOC lodging and reception venues. If you are interested in how to start the permit application process to have a marriage ceremony inside of the national park, just contact our event coordinator.
Timeless Outdoor Setting
Lodging and spaces created and owned by the BOC are timelessly rustic with new up-to-date luxury lodging available as well. The Buffalo Outdoor Centers cabins perfectly capture where cozy and rustic meets luxury and charm. With this kind of backdrop of our original or newly built cabins, you have the ability to make it your own for the big day! Whether you want detailed luxury or classic simplicity, you get to decide! Any season in Buffalo River Country is gorgeous for having weddings. Spring, summer, fall, and winter in Buffalo River Country offer their own unique touches for a wedding backdrop. Early spring and summer offer budding flowers, abundant greenery, and ample water for river levels and waterfalls. As summer transitions into fall long days offer savory sunsets for those light-soaked evening weddings along with perfect moderate temperatures in the evenings and at night. Fall in Buffalo River Country is saturated in fall foliage and color, perfect for the gorgeous autumn wedding of your dreams. Even in winter, there is nothing quite like a holiday wedding in the cozy setting of your luxury cabin or lodge! What could add to that cozy feeling more than a hot tub? Check out which cabins and lodges have hot tubs at buffaloriver.com.
See for Yourself!
The Buffalo Outdoor Center has it all, but don't just take my word for it! Plan your visit and even schedule an onsite lodge or cabin viewing! Come see for yourself what makes Buffalo River country so special, and what sets the Buffalo Outdoor Center apart.
For more information you can visit our Wedding Page or call our office at 870-861-5514 and ask for Mary Catherine. Or email Mary Catherine directly at mc@buffaloriver.com.

Sign Up for our newsletter
Get the latest updates from the Buffalo!