Say, "I do," in Arkansas's prettiest place.
There's no finer setting for a wedding in the Natural State than the beauty and comfort of our RiverWind Lodge or a romantic mountain cabin overlooking miles upon miles of Buffalo River scenery. We're a unique wedding venue offering outstanding scenic beauty as your backdrop and a number of conveniences that make planning and hosting a wedding easy, whether yours is a large affair or a more intimate ceremony.
EASY TO GET TO FROM MOST ANYWHERE
Have guests coming from all over? Our central location within the US and proximity to two major airports makes it easy to travel here. Guests driving from Northwest or Central Arkansas, MO, LA, OK, KS, MS and central/SE TX are within a one-day drive of here. Have guests flying in? We're about 90 minutes from XNA in Northwest Arkansas and 2.5 hours from the Little Rock airport.
EXCLUSIVE TO YOUR WEDDING
Unlike many wedding venues, you're not waiting for one wedding party to clear the area while another one is lined up behind you. In other words, you won't have the pressure or interference of multiple events going on around you---you and your guests will have the lodge or cabin to yourselves.
A WILDERNESS SETTING, YET CLOSE TO EVERYTHING YOU NEED
Although the town of Ponca is small, we can connect you with quality catering and floral options from the surrounding area---professionals with whom we work on a regular basis. They know the lodge, as well as our standards for customer service. Need someone to perform the ceremony? Our own Mike Mills and Tony Harlan have credentials for conducting ceremonies in the state of Arkansas. We can also help you with set-up and break-down arrangements for an additional charge. Need wedding photography? We highly recommend Toni Albers for larger weddings, especially those at RiverWind Lodge, and Rhonda Mills for weddings of a more intimate nature.
LARGER WEDDING EVENTS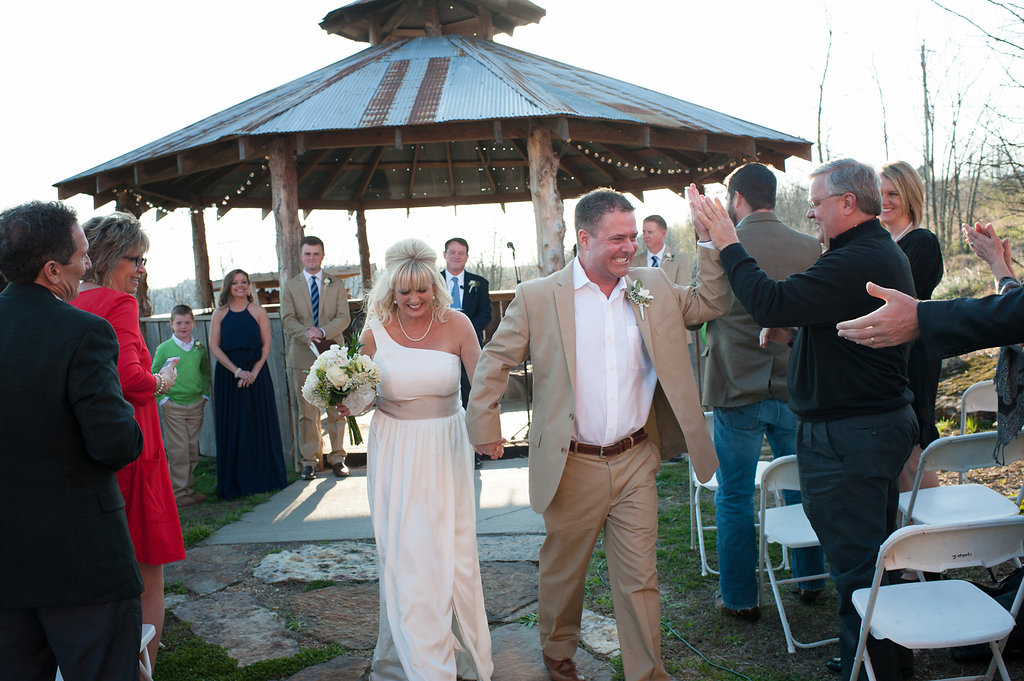 Planning a wedding with lots of friends and family? Our RiverWind Lodge, perched high atop one of the Buffalo River's tallest mountains is a gorgeous place to say, "I do." It's commanding view of the Buffalo's headwaters area and beautiful rustic design off you and your guest an inspiring setting yet at an affordable price. Learn more about RiverWind Lodge here.
MORE INTIMATE WEDDINGS
Planning a smaller, more intimate wedding? We have cabins which are perfect for smaller ceremonies and receptions (please note that additional fees apply for events held at cabins). We can even help you select a scenic spot beside the river (river weddingss require a gathering permit from the National Park Service), or on a trail for your exchange of vows. Click here for more info on planning a small, but beautiful Buffalo River wedding!
ROMANTIC HONEYMOON CABINS
Nothing says, "Romance," like one of our beautiful romantic cabins for two. These cabins offer privacy, romantic amenities, several with outdoor hot tub decks overlooking Buffalo River country. We think you'll find our romantic cabins for two to be the perfect retreat in which to begin your new life together as one.
READY TO PLAN YOUR WEDDING?
Simply call our staff at 870-861-5514 to get started planning your Big Day. Be sure to ask for our event coordinator Alyssa as she can assist you with set-up arrangements and contacts for caterers and florists, even someone to conduct the ceremony!


RiverWind Lodge wedding photography on this page by Toni Albers Photography