Interested in exploring the upper Buffalo National River wilderness this fall?  If so, here are some must-know tips that will help you successfully plan for an autumn escape to Ponca!
BUFFALO NATIONAL RIVER FALL COLOR

The upper Buffalo National River area is located at a higher elevation than most other parts of Arkansas, so tree leaves tend to change color a little sooner than in less mountainous parts of the state.  For example, here in the Ozark Mountains we're commonly 10 days or so ahead of central and southern Arkansas for prime leaf peeping.  When can you expect to see fall color?  Well, what's extra nice about autumn in Buffalo River country is how leaf color tends to linger over several weeks.  Sumacs and black gums are the first to turn, with their fiery, hot-red foliage lighting up in late September.  Maples and other hardwood trees can turn any time from the end of September to early November.  It's really a roll of nature's dice as to when the most trees turn on their color simultaneously.  Fortunately, most of the time we enjoy an extended season of color here in Ponca, with various trees entering prime color at different times over several weeks.
ELK WATCHING
The shortening of daylight triggers the elk mating season here in Ponca, with cooler temps igniting battles among the bulls for herd domination.  It's Arkansas wildlife watching at its finest and if you've never witnessed it, you owe it to yourself to come to Ponca sometime between mid-September and the end of October.  Click here to learn more about the Ponca elk herd, including optimum viewing tips:  Ponca elk watching.
CABIN RESERVATIONS
If a fall cabin escape is on your mind, you'll want to be making your reservations quickly as fall reservations are about to pick up.  Whether you're looking for a romantic cabin escape or have family or friends joining you, we've got a great place to kick back after a full day of adventure in the autumn leaves of Buffalo River country.  To view BOC cabin options—including hot tub cabins and pet-friendly cabins—click here: BOC Rental Cabins  Have a group?  Check out our beautiful lodges, as well as the Big Sky Cabin for hosting 12 or more guests.
FALL ZIP LINE ADVENTURE
Our Buffalo River Canopy Tour is an awesome way to experience Buffalo River fall color up close and personal!  Click here to learn more about Arkansas' only wilderness zip line experience, including our fall tour schedule:  Buffalo River Zip Line Adventure.  BOOKING TIP:  October and November weekend zip line reservations fill quickly, so advance reservations are highly recommended!
PONCA IS ARKANSAS'S FINEST FALL HIKING
Hands down, there is no finer hiking scenery in the state of Arkansas than the hardwood forests of upper Buffalo National River country.  There are miles and miles of trails to be explored, many of them family friendly!  Click here for a list of BOC's Top Buffalo River Hiking Trails, including trail info and downloadable maps for the Whitaker Point and Lost Valley trails.  PLANNING TIP:  Trailhead parking can oftentimes be full, especially in the afternoons.  Arriving on the early side of morning or the late side of afternoon (as long as you allow yourself plenty of daylight) can help.  Weekday hiking plans will help you avoid crowded trails and scenic spots.
THE BEST FALL MOUNTAIN BIKING IN ARKANSAS
Our Ponca Downhill MTB trail has quickly become one of the hottest trails in the USA for intermediate-to-expert mountain bike enthusiasts.  Need great MTB trails that are more novice-to-intermediate?  Head up Cave Mountain Road at the Boxley Bridge and ride the extensive Upper Buffalo River Headwaters MTB trail system located in a vast Ozark National Forest area!
BUFFALO RIVER RV & TENT CAMPING
BOC's RV Campground: Our mountain-top RV campground features 14 spacious sites with full hookups and a view across the Ozark Mountains like no other in Arkansas!  Other RV park amenities include a terrific bathhouse with coin-operated laundry mat, nearby Sunset Walking Trail, plus there's lots of room to walk your pet or let the kids run and play.  Our RV park also features a volleyball net and soccer game area.
Buffalo National River Tent Camping:  Tent camping in the Buffalo River wilderness is one of America's and Arkansas' finest outdoor experiences.  Our personal favorite campground is at the Steel Creek access, located about 10 minutes from Ponca off Hwy 74.  Campground sites fill quickly there, especially on weekends, so making an advance reservation is wise.  You can reserve a site at Steel Creek via this National Park Service web page:  Steel Creek Campground.   Another NPS campground in the Ponca area to consider Kyle's Landing.  It's a smaller campground than the Steel Creek facility, but it's situated along the river with quick access to the lower Indian Creek hiking trail.  Learn more about National Park Service campgrounds on the upper Buffalo River, as well as the river's middle and lower districts, at this link:  Buffalo National River Campgrounds
MORE THINGS TO DO AROUND PONCA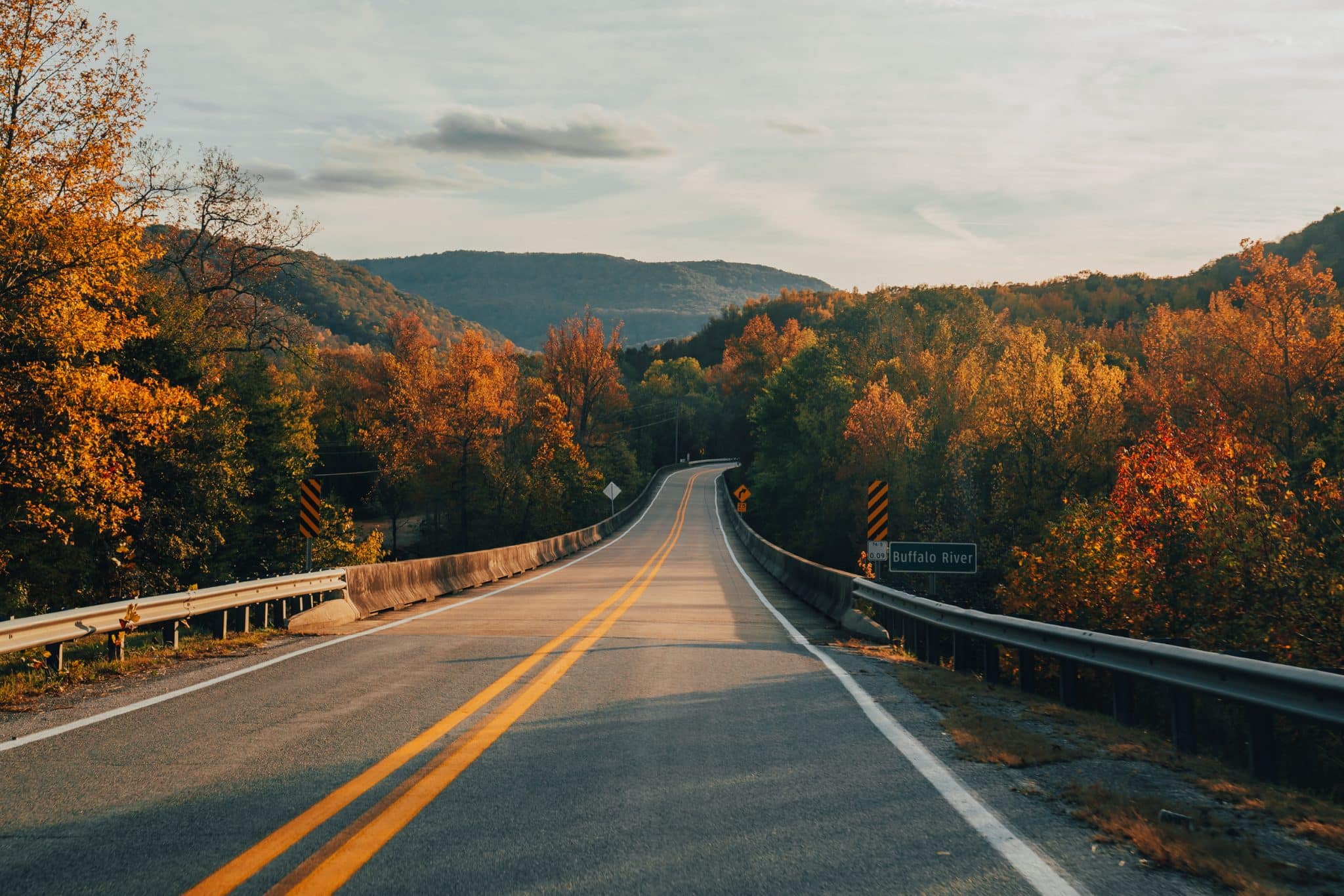 Scenic Drives:  Whether you're on a motorcycle or in a car, the paved road touring around Newton County is beautiful and some of the finest scenic drives in mid-America.  Backroad drives are also extremely lovely; 4WD is recommended for most of these roads and high-clearance for roads in the upper wilderness surrounding the Fallsville and Whitaker Point areas.  For pavement drives, take a drive over to Jasper, AR, just 14 miles from Ponca and with lovely scenery every mile of the way.  Go even further up to the Arkansas Grand Canyon south of Jasper on Hwy 7.  Need a picnic lunch for a stop along the way?  Our deli can prepare you a hearty meal; check out our scrumptious deli menu here!
Dining:  The picturesque mountain town of Jasper is just 14 miles from Ponca (via Hwy 74 S) and has several restaurants featuring everything from great burgers to organic jambalaya.  It's a lovely drive across the mountains to this small hidden gem of a community, featuring one of Arkansas's most beloved restaurants, the Ozark Cafe!

Sign Up for our newsletter
Get the latest updates from the Buffalo!