By Rhonda Mills, BOC Staff Member
We call it the "Season of Stillness" because winter here in the upper Buffalo River wilderness brings a healing hush to the spirit and soul.  The chill in the air and the beauty of the landscape at rest combine to encourage one to slow down and just "be."  An added bonus during the winter months is, with fewer park visitors about, it isn't uncommon to have a trail or river gravel bar all to yourself.

That very scenario recently proved true for me on a hike of what is surely Arkansas' most popular hiking trail:  the Lost Valley Trail.  Four deer, a busy squirrel or two, and a low-flying gray bat that lazily fluttered by were my only trail companions. At trail's end, Eden Falls (pictured at right), inspired by rainfall from the day before, was tumbling down the back wall of the box canyon; mine were the only eyes and ears present to behold the sight and sound of its beauty.
You could spend every day of winter exploring a different trail or nook and cranny of the upper Buffalo River wilderness.  Visit our "Top Hiking Trails" web page for suggestions; plus, printable map PDFs of select trails, such as Whitaker Point and Big Bluff.
Of Elk, River Running & Cabin Escapes
You may not know this, but the Ponca area is home to a growing herd of majestic Rocky Mountain elk.  In winter, the elk can oftentimes be viewed in the fields along AR Hwy 43 just to the south of Ponca.  These fields border the Buffalo National River on the east side of the state highway and the elk tend to graze there in the winter months.  Click here to learn more about how, where and when to find Ponca's elk.
As for running our section of the Buffalo National River, we always rent boats and launch paddlers when the river level permits, even in wintertime.  However, we do ask that you be an experienced paddler due to the risks of hypothermia and cold-water immersion.  You can keep tabs on the current river level at Ponca via this link:  Buffalo River Water Level.
When it comes to post-adventure relaxation, there's no place finer for it than beside a roaring fire in a cozy BOC cabin.  A soak in a cabin's outdoor hot tub is also a superb ending to a day in the winter woods.  Our web page of cabin types (such as Romantic, Family & Friends, etc.) is the perfect place to begin your search for the BOC cabin that's just right for you.  Or, if you and a passle of friends are looking for winter adventure, our RiverWind Lodge offers the perfect mountain-top perch for a group getaway.
RV Camping in Winter?  Absolutely!
New at BOC is our RV campground, featuring 14 pull-thru sites, full hookups and a terrific bathhouse should you wish to RV during the winter and not hook up to water.  Its location is also terrific, offering a view toward the eastern Ozark Mountain ridges which rise above the Buffalo National River.  Since this photo was taken, picnic tables have been added to each site, with grills arriving for installation by early March.  The campground is open year 'round, so you can pull to Ponca whenever the camping bug bites. Just call our staff at 870-861-5514 for reservations.  By the way, those 14 sites are all big rig friendly, accommodating motorcoaches of up to 45-feet in length and offering 110-amp electric hookups!
Winter Mountain Biking
Winter is one of the finest seasons for running BOC's Ponca Downhill.  Our shuttle service is available year 'r0und, even in winter months!  The Buffalo River Headwaters MTB system is also an ideal winter mountain biking adventure.  Between the two MTB systems, you can plan an entire weekend around hitting the trails.
Need a Cabin for Your Adventures?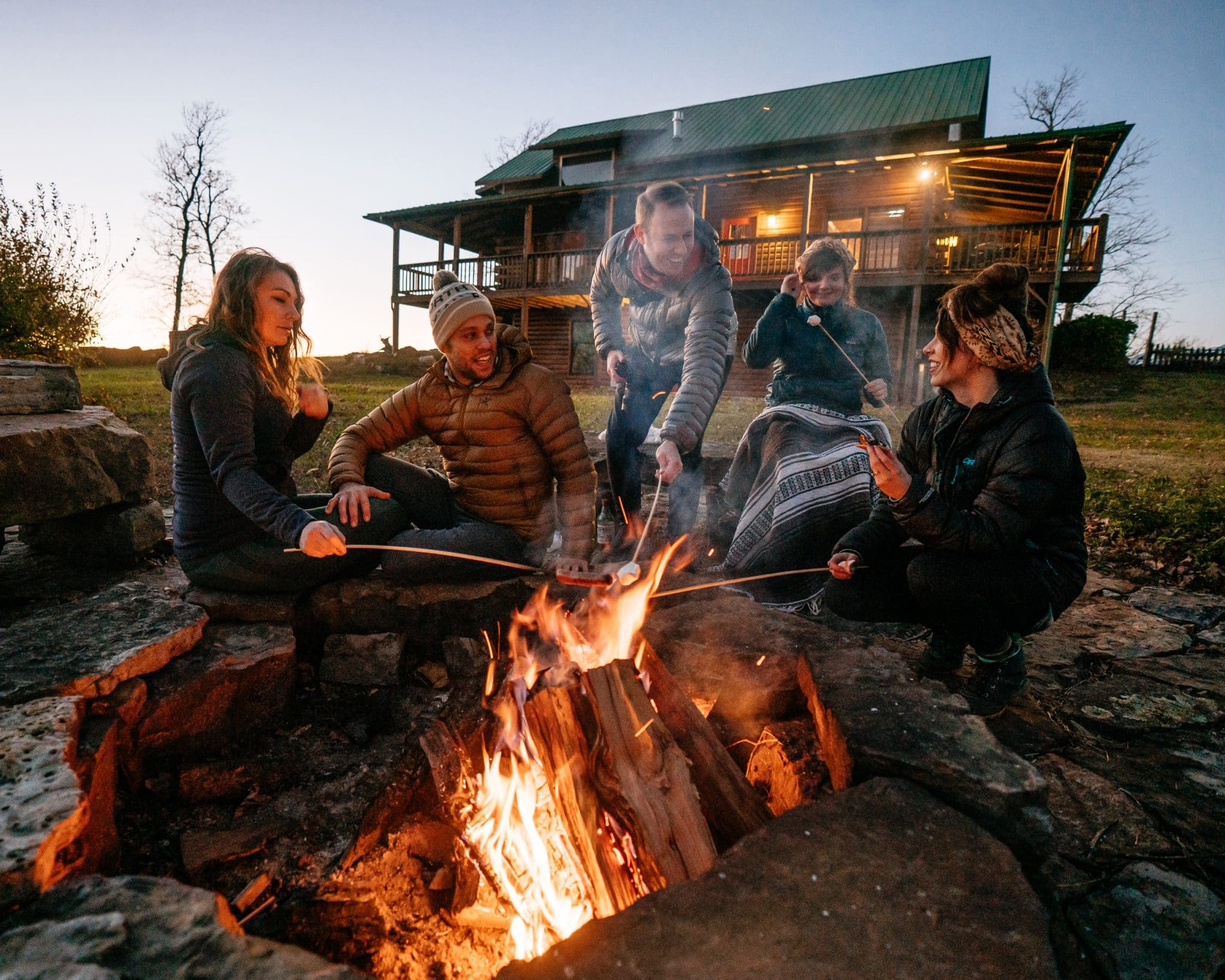 Cabin rentals for weekends, even in winter, can fill up, so it isn't too early to make your plans… especially if you have Valentine's Day or the weekend of President's Day in mind for your winter adventure.  Traveling through the week, however, provides the best opportunity for trail solitude and cabin availability.  For example, the hike I took into Lost Valley was on a Monday afternoon in January.
We'd love to help you plan the perfect winter retreat to Ponca.  While we offer the convenience of online cabin booking, our office staff also stands ready to help.  You can reach them by calling 870-861-5514 during BOC's winter office hours of 8:00 AM – 5:00 PM.
So, whether for a day trip or several days of well-deserved wintertime R'n'R, we hope to see your smile in Ponca soon!
---
Buffalo Outdoor Center is authorized within Buffalo National River to provide canoe, kayak and raft rentals and transportation services.

Sign Up for our newsletter
Get the latest updates from the Buffalo!