We call it the "Season of Stillness" because winter here in the upper Buffalo River wilderness brings a healing hush to the spirit and soul.  The chill in the air and the beauty of the landscape at rest combine to encourage one to slow down and just "be."
It's also a fabulous time for adventure if you have a case of cabin fever and need to stretch your legs.  Besides, winter hiking trails offer scenic views that aren't available during the other seasons of the year.  You'll also find fewer visitors about and it isn't uncommon to have a trail or river gravel bar all to yourself.
Visit Frozen Waterfalls
Another wintertime treat is when Buffalo National River waterfalls transform into icefalls.  A good time to visit Ponca for this splendid phenomenon is when snow and freezing temperatures combine over several consecutive days.  One of our favorite icefalls is the Glory Hole, which can become a massive frozen column of water in winter, making it a visual wonder for both the eye and camera lens.
For more trail ideas, visit our "Top Hiking Trails" web page.  You'll also find printable map PDFs of many of the upper Buffalo River trails available, such as for Whitaker Point and Big Bluff.
Ponca Elk Watching is Terrific in Winter
You may not know this, but the Ponca area is home to a growing herd of majestic Rocky Mountain elk.  In winter, the elk can oftentimes be viewed in the fields along AR Hwy 43 just to the south of Ponca.  Click here to learn more about how, where and when to find Ponca's elk.

Cozy, Secluded Cabins & Lodges for Winter Getaways
When it comes to post-adventure relaxation, there's no place finer for it then beside a roaring fire in a cozy BOC cabin.  A soak in a cabin's outdoor hot tub is also a superb ending to a day in the winter woods.  Have a group looking for winter adventure?  Our stunning Ponca Creek Lodge offers a fabulous fireplace gathering spaces inside and out for your family and friends.
Cabins and lodges, even in winter, can fill up, so it's never too early to make your plans in order to get your choice of cabin and date options—especially if you have Valentine's Day or the weekend of Martin Luther King or President's Day in mind.
Winter RVing in Ponca?  Absolutely!
Our spacious, mountain-top RV campground, featuring 14 pull-thru sites, full hookups and a terrific bathhouse, is open even during winter months.  Its location offers you a sweeping view toward the eastern Ozark Mountain ridges which rise above the Buffalo National RiverS downstream of Ponca.  By the way, those 14 pull-thru sites are all big-rig friendly, accommodating RVs of up to 45-feet in length + tow vehicle and offering 110-amp electric hookups!
Winter Mountain Biking
Winter is one of the finest seasons for running BOC's Ponca Downhill MTB trail.  Our shuttle service is available year 'r0und, even in winter months!  The Buffalo River Headwaters MTB system is also an ideal winter mountain biking adventure.  Between the two MTB systems, you can plan an entire mountain biking weekend around these trails.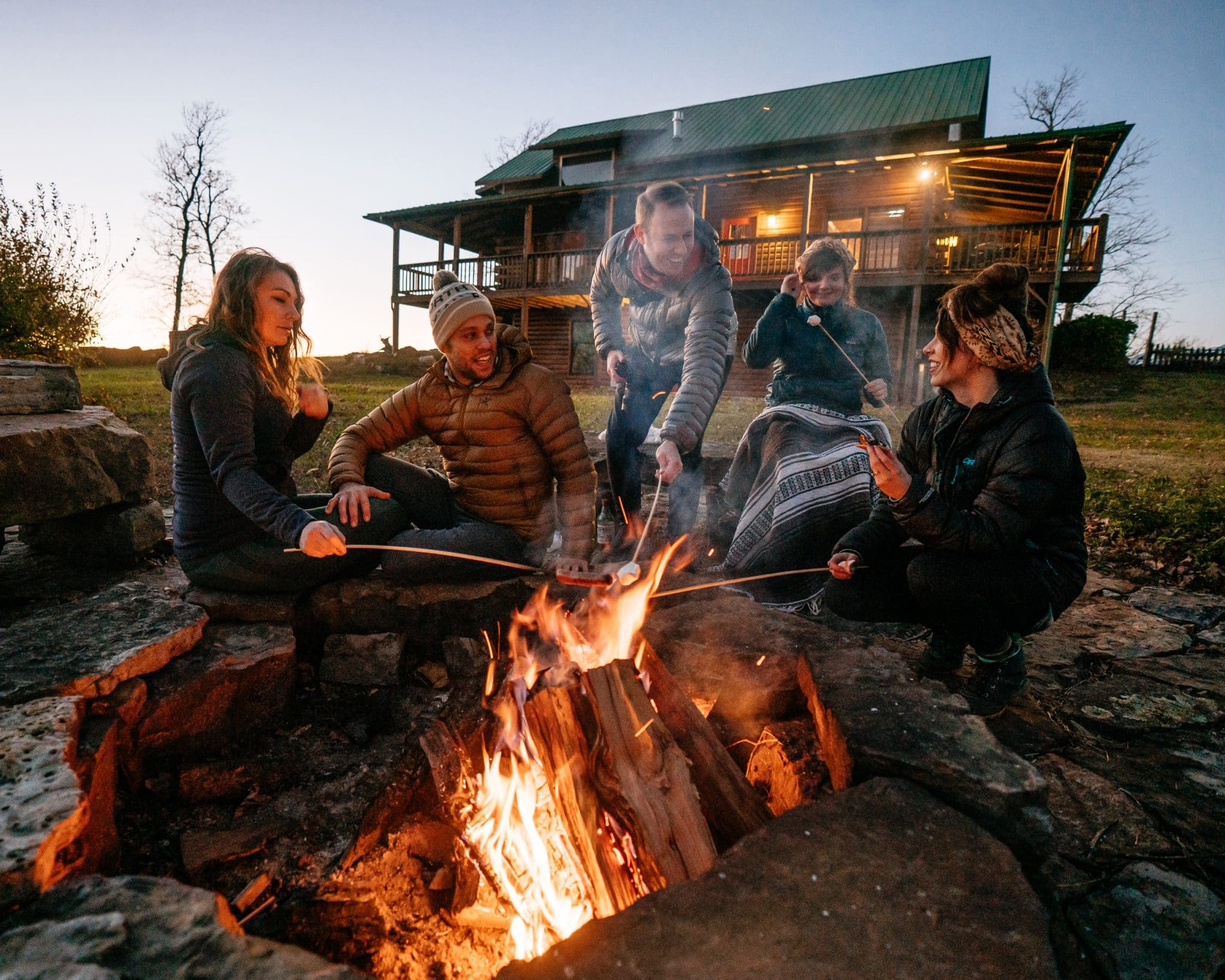 Book Online or Call Us at 870-861-5514
We'd love to help you plan the perfect winter retreat to Ponca.  We offer the convenience of online cabin booking, but our Adventure Staff also stands ready to help.  You can reach them by calling 870-861-5514 during BOC's winter office hours of 8:00 AM – 5:00 PM.  We hope to see your smile in Ponca soon!

Sign Up for our newsletter
Get the latest updates from the Buffalo!